Asbestos in the Coast Guard
Coast Guard veterans have similar risks to Navy veterans of developing mesothelioma. Coast Guard vets make up a small percentage of cases, which is attributable to the small size of this branch.
Always Prepared But Not For This
No one knew the dangers of asbestos when it was used in the military. Asbestos exposure risks are proportionally high in the Coast Guard. As a military branch, Coast Guardsmen diagnosed with an asbestos-related disease are also entitled to rights and benefits.
What Coast Guardsmen Should Know About Asbestos Exposure
Increased Asbestos Use

Coast Guardsmen who served during WWII faced the highest rates of asbestos exposure due to the increase in ship production to support the war effort.

Ships and Shipyards Used Most Asbestos

Asbestos was most frequently found on ships and in shipyards. Service in the Curtis Bay Coast Guard Yard produced a significant amount of mesothelioma cases.

VA Benefits for Coast Guardsmen

Coast Guard veterans with mesothelioma have multiple sources available for support, namely the VA. Veterans with mesothelioma usually receive full benefits from the VA.
Manufacturing Companies are Responsible – Not the Coast Guard
The Coast Guard is not responsible for the exposure of veterans to asbestos. The companies who manufactured and sold these products are responsible. They used methods to conceal the dangers of asbestos from the military and the public.
Coast Guard Veterans Can Get Compensation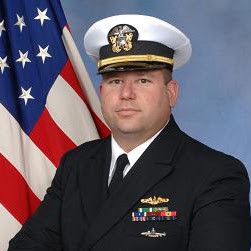 LCDR Carl Jewett helps U.S. Coast Guard veterans receive compensation, benefits, and health care. He is a VA-accredited claims agent who has been helping veterans with mesothelioma for years. Contact LCDR Jewett to learn more about what assistance may be available to you and how to file a claim.
Commander Jewett can help you file for:
Disability and/or pension (around $3,100 per month)
Survivor benefits (for spouses and children)
Aid and attendance and/or housebound benefits
Where Do Coast Guardsmen Encounter Asbestos?
The risks of asbestos exposure in the Coast Guard are essentially the same as those of the Navy. This is because of the prevalence of the use of asbestos in shipbuilding.
The Coast Guard doesn't have as many cases of mesothelioma as the Navy, but it's important to keep in mind that their branch is about 1/10 the size of the Navy. Regardless, those who worked in the shipyards constructing vessels and veterans aboard ships were defenseless against the dangers of asbestos.
Coast Guard veterans who served during World War II face a higher risk of developing mesothelioma than veterans who served during other conflicts.
During the war, ship production increased substantially to support the war effort, which meant asbestos production also increased substantially.
Furthermore, Coast Guard vessels were often modified into warships, posing a threat of asbestos exposure during modification.
Ships
The prevalence of asbestos in ships lasted until the federal government began regulating asbestos in the 1980s. An estimated 300 different asbestos products were used in all military branches up to this time, mostly in ships. Some uses of asbestos on Coast Guard ships include:
Insulation
Electrical wiring and equipment
Pipes and pipe fittings
Valves
Ropes
Deck coating material
Flooring material
Engine and boiler rooms
The Coast Guard has some of the oldest vessels in the world. Cutters are the largest ships in the Coast Guard. They are to the Coast Guard what aircraft carriers are to the Navy. The term "cutter" used to describe small sailing ships used for fast, additional support.
Cutters are also the only vessel in the Coast Guard with a permanently assigned crew.
This means veterans who served on cutters may have been continuously exposed to asbestos.
Also, more asbestos was used in cutters than other ships in the Coast Guard because of their size.
Other vessels in the Coast Guard that most likely contained asbestos are:
Lifeboats
Response boats
Utility boast
Long Range Interceptors
Short Range Interceptors
Transportable Port Security Boats
Occupational Risk: Shipyard Workers
Shipyard workers had high levels of occupational exposure, and as a result, have a high incidence of mesothelioma.
Curtis Bay Coast Guard Yard
The Coast Guard operates its own shipyard in Baltimore, Maryland. Veterans who were stationed at the Curtis Bay Coast Guard Yard have a significantly higher risk of developing mesothelioma than other Coast Guard veterans. Serving as the only industrial shipyard and repair center for the Coast Guard, the Curtis Bay Yard has been in operation since 1899.
A report on workers and veterans who worked in the shipyard showed a significant increase in mesothelioma and other lung diseases. It was attributed to asbestos exposure in the yard.
How Can Coast Guardsmen Take Action?
Those whose occupation involved the building or maintenance of ships have the highest risk of developing mesothelioma.
Curtis Bay Coast Guard Yard
Coast Guard veterans who were diagnosed with mesothelioma as a result of asbestos exposure during active duty service are entitled to benefits from the Office of Veterans Affairs. They may also file a claim against the companies responsible for manufacturing the asbestos products used by the Coast Guard.
Our VA-accredited claims agent, LCDR Carl Jewett, has been the catalyst for many veterans to get their VA benefits and more. Commander Jewett explains how you can get access to treatment and benefits for veterans in our free Veteran's Support Guide.