Extrapleural Pneumonectomy (EPP)
The extrapleural pneumonectomy (EPP) is a surgical procedure that removes the entire affected lung in patients with malignant pleural mesothelioma. The EPP extends life expectancy and improves a patient's quality of life.
Surgery for Pleural Mesothelioma
The extrapleural pneumonectomy (EPP) was the first surgical treatment option developed for pleural mesothelioma and it significantly increased survival rates among patients diagnosed with this aggressive cancer.
The surgery is generally used in patients whose tumors have grown beyond the parietal (outer) and visceral (inner) pleura into the lung tissue but is still contained to the lung itself with no effect on distant lymph nodes.
Key Points About the EPP
Surgical Development

The extrapleural pneumonectomy was developed over a 30 year period by the late Dr. David Sugarbaker, during his time at Brigham and Women's Hospital.

Eligible Candidates

An ideal candidate for the EPP is a patient with stage 1 or 2 diagnosis who is in generally good health and has adequate heart, lung, and liver function.

Life Expectancy

A study conducted by Dr. Sugarbaker concluded patients who underwent an EPP surgery had a median life expectancy of 18 months. Another study from 2014 found that 39% of patients lived longer than 2 years with no local recurrence.
Get Connected to an EPP Specialist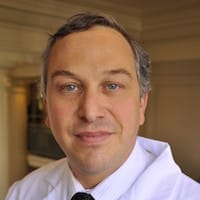 Dr. Abraham Lebenthal, a surgeon from Brigham and Women's Hospital has worked extensively with mesothelioma patients and is an expert at performing the EPP procedure.
Our free Doctor Match program can help you find the best EPP specialist for you. Our patient advocate team will learn about your pleural mesothelioma diagnosis and pair you with a doctor whose expertise fits your stage and cell type.
Why Use Doctor Match?
We are knowledgeable about EPP surgeons.
We reach out to doctors on your behalf.
We help schedule and expedite appointments.
Surgical Procedure
Before the procedure begins, the patient is placed under general anesthesia, and an endotracheal tube is inserted in the trachea. This keeps the airway to the healthy lung open and collapses the diseased lung so that it can be removed. The time it takes to complete the procedure varies with each patient, but EPPs have been completed in as few as three hours.
5 Steps of an Extrapleural Pneumonectomy
1

Incision — The surgeon makes an incision along the side of the chest, extending roughly 7-8 inches.

2

Extrapleural dissection–The pleura and pericardium are separated from the diaphragm and the chest wall.

3

Division of pulmonary vessels — Blood vessels and arteries supplying the affected lung are severed and redirected.

4

Removal of the affected areas — The pleura, pericardium, diaphragm, affected lymph nodes, and lung is removed.

5

Reconstruction — The removed linings are reconstructed with Gore-Tex, which is a breathable, waterproof, and pliable material used in the surgical reconstruction.
In cases where intraoperative chemotherapy therapy is used, heated chemotherapy drugs are injected directly into the chest cavity after removal of the lung and before reconstruction.
Multimodal therapy
is also becoming favored by many mesothelioma specialists, where treatments like radiation, chemotherapy, and/or immunotherapy are used before, during, or after surgery.
It creates the ability to apply much higher doses of chemotherapy without causing substantial side effects associated with systemic chemotherapy, which passes through the entire body. The purpose of this procedure is to kill any remaining microscopic mesothelioma cells left behind in the chest cavity that could not be removed surgically.
Who is Eligible for an EPP?
Patients are carefully evaluated and must meet several criteria before they are considered for an EPP. The first and most important factor in determining eligibility is that patients must be healthy enough, to not only undergo surgery but also to withstand the recovery process with a single lung.
According to Brigham and Women's Hospital, overall health and normal body function is a far more important factor than age. If a patient is over 65 but has been maintaining an active lifestyle before their diagnosis, then they may be eligible for surgery.
Having healthy, normal heart function is crucial since the heart and lungs work together to support the breathing process. Normal kidney and liver function are also required.
Patient Eligibility Tests
Chest X-rays
CAT (CT) Scans of the chest and abdomen
Pulmonary function tests (PFT)
Quantitative ventilation/perfusion scan (V/Q Scan)
Echocardiogram (ECHO)
Blood chemistry tests
Pleural biopsy
Diagnosis is also an important factor in selecting patients for an EPP. This surgery is typically performed on patients in early stages of pleural mesothelioma where the tumor is contained to the pleura and lung.
Generally, patients whose cancer has spread to their lymph nodes and surrounding tissue or organs are not accepted for the surgery under the standards of Brigham and Women's Hospital.
The purpose of the surgery is to prevent the cancer from spreading. Therefore, if it has already spread, the risks associated with the surgery might outweigh the potential benefits.
Recovering From EPP
Following an EPP surgery, patients are likely to feel sleepy due to the anesthetic, feel nauseated, and have a sore throat caused by the breathing tube used during surgery, which can last for a few days. Hospital recovery time is, on average, about two weeks.
During this time, patients are cared for around the clock and work with physiotherapists on deep breathing exercises and shoulder exercises to prevent post-operative complications and prepare them for exercises that should be continued at home.
Immediately following the surgery, the patient is placed on a respirator to help the healthy lung adjust to handling the entire respiratory process. An epidural catheter is often placed to help with pain control.
After Surgery Patients Are Monitored For:
Blood pressure
Pulse
Temperature
Breathing
Blood-Oxygen level
Pain
Out-patient Recovery
Recovery at home lasts between 6-8 weeks. During this time, patients are advised to keep up with minor exercises but not to push themselves beyond their limits. As with any surgery, the body needs time to adjust to the changes.
Breathing and walking exercises are resumed at home and the level of activity can be gradually increased over time. Patients may still feel short of breath for a few months after surgery.
Mike Dews was a patient of Dr. Sugarbaker. He underwent the EPP procedure and survived for an amazing 10 years. Regarding his surgery he said:
"My recovery from the surgery was difficult. Learning to breathe with one lung was difficult. But it did move along, and I was able to start walking. I was actually swinging the golf clubs within 100 days after my surgery."
The recovery process can be difficult for many patients both physically and emotionally. Recovery is more successful when patients are willing to accept support from family, friends, and caregivers.
Key Benefits of EPP
Over the years, the EPP has produced favorable results for improved breathing quality and life expectancy in patients with pleural mesothelioma. Though there now exists another surgical procedure known as a Pleurectomy with Decortication (P/D), which has become favored by some doctors given the more open eligibility criteria, the EPP remains the most extensive surgical treatment for mesothelioma.
According to a study by Dr. David Sugarbaker in 2014, the overall median survival for EPP patients was 18 months with 67% of patients surviving beyond one year and 28% of patients surviving beyond three years.
Of course, like any radical surgical procedure, it does have its risks. This is why the EPP has strict eligibility that must be met before patients can be considered candidates for surgery.
Risks Associated with Surgery
During the 1970's, when the EPP was introduced, the mortality rate was around 30%. However, the rates have significantly decreased since then, hovering between 5% and 8%.
Typical EPP Risks
Internal bleeding
Respiratory failure
Pneumonia
Infection
Blood clots
Pulmonary edema
Cardiac Arrhythmias
Cancer centers that employ mesothelioma specialists or ones that have dedicated mesothelioma research centers are more likely to have lower mortality rates than the reported average. As with any major surgery, these risks are mitigated by experienced specialists and hospital staff who have a long history of treating mesothelioma.
Brigham and Women's Hospital has a unique management approach for this surgery, which is responsible for the hospital having one of the lowest mortality rates of all mesothelioma treatment centers.