A potential pleural mesothelioma treatment has received Humanitarian Use Device (HUD) designation from the U.S. Food and Drug Administration (FDA). Receiving HUD designation may help make this treatment available to mesothelioma patients more quickly. The treatment, developed by Novocure, uses Tumor Treating Fields (TTFields) to keep cancer cells from dividing to create more cells.
"We are pleased to receive HUD designation as it is a major step towards a second regulatory approval for TTFields in the United States." said Asaf Danziger, Chief Executive Officer of Novocure.
How Tumor Treating Fields Work
When most people think of cancer treatments they think of 3 types: chemotherapy, radiation, and surgery. Novocure believes TTFields will someday be known as the fourth option for cancer treatment. TTFields therapy uses low-intensity, alternating electric fields to disrupt cancer cell division and cause cell death.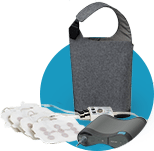 TTFields is FDA approved to treat a rare brain cancer called glioblastoma. It is also being tested in several other cancers, including mesothelioma.
TTFields treatment can be done at home. Patients apply patches to the area affected by cancer. These patches connect to a TTFields delivery device that is small enough to carry anywhere.
In this video, Bill Doyle, Novocure Executive Chairman, explains how TTFields work to combat cancer. The video also features patients who are being treated with TTFields while carrying on their normal lives.
When Professor Yoram Palti first developed the idea for treating cancer with electric fields, he built a laboratory in his own basement to begin testing it. He believed he could develop a treatment that could destroy cancer cells without damaging healthy tissue. In 2000 Dr. Palti founded Novocure. Novocure is now an international oncology company with over 450 employees around the world.
TTFields for Mesothelioma
Novocure's TTFields are currently being tested to treat pleural mesothelioma in a clinical trial called STELLAR. Participants in the STELLAR trial are receiving treatment with TTFields plus pemetrexed and cisplatin or carboplatin. Novocure presented impressive interim results from the trial in December 2016.
The results showed a 12-month survival rate of 79.7 percent and median progression free survival of 7.3 months.
Phase 2 of the STELLAR trial is only taking place in Europe. It is ongoing but no longer recruiting new participants. The final patient was recruited in March. No device-related serious adverse events have been reported.
"Our interim data from the STELLAR trial give us hope that TTFields used in combination with standard of care chemotherapies may increase survival for patients with mesothelioma without significantly increasing side effects," said Dr. Eilon Kirson, Novocure's Chief Science Officer and Head of Research and Development.
What is a Humanitarian Use Device (HUD)?
A Humanitarian Use Device (HUD) is a medical device intended to treat a rare or "orphan" disease. HUD designation is given by the FDA.
"Due to the clinical and pathological course of mesothelioma, standard treatment methods rarely lead to a complete cure and new effective treatments are desperately needed…We are pleased that the FDA has recognized orphan status for mesothelioma and acknowledges the urgent demand for new treatment options," Dr. Kirson said.
Treatments for rare diseases are often more difficult to research than more common diseases. The FDA has programs that help treatments for rare diseases get approved more easily.Gaining HUD designation is the first step toward receiving Humanitarian Device Exemption (HDE).
HDE designation would allow Novocure to market TTFields in combination with standard of care chemotherapy as a treatment for pleural mesothelioma in the United States. Novocure hopes to apply for HDE designation in 2018, once they have enough data from their ongoing mesothelioma clinical trial.