Having an idea of what to expect from chemotherapy can help relieve some of the fear that comes with starting the treatment. I am going to provide you with the basics of your initial expectations, common side effects, and ways to help manage those side effects and prevent symptoms from occurring.
Alimta (Pemetrexed) and cisplatin are the only FDA approved combination of chemotherapy for the treatment of mesothelioma. Cisplatin is a platinum based drug. The combination of the two drugs is considered 1st line therapy for mesothelioma. Majority of patients diagnosed with mesothelioma have systemic chemotherapy during their diagnosis.
Initial Expectations
Your doctor will prescribe 3 necessities as a prophylactic measure:
Vit B12 injection along with a folic acid supplement – taken one week prior to your first dose of chemotherapy. You will continue to take the supplements throughout your course of treatment. These are given to help reduce the side effects of Alimta.
Corticosteroid – usually taken the day before, the day of, and the day after your infusion treatment. Sometimes it is prescribed for 3 days prior to your infusion or it is given in IV form while you are receiving your treatment. It is prescribed to prevent a skin reaction from happening.
Antiemetic – to prevent nausea. Please note you can ask your doctor for a different kind if you find the one that was initially prescribed does not work for you.
Prior to administering chemotherapy, a blood test will be performed to check your blood levels to see if it is safe to administer the infusions or if the chemotherapy dosage needs to be adjusted. Platelet levels will be monitored as well as kidney and liver function to prevent toxicity. You should avoid NSAID medications during treatment.
Typical Steps of Infusion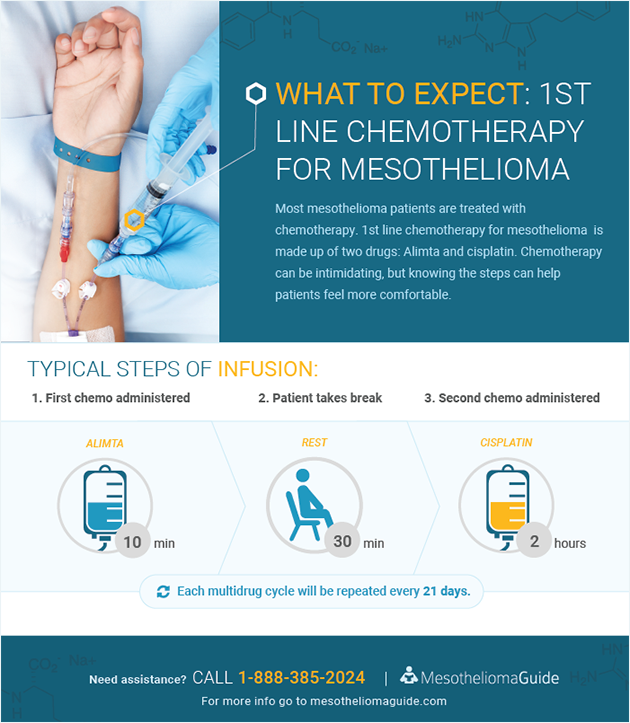 Additionally, Intravenous hydration is frequently given before and/or after your infusions.
Most common side effects
Nausea, vomiting, and constipation
Fatigue
Low blood cell counts

White blood cell count – help fight infection
Red blood cell count – help carry oxygen from lungs to rest of body
Platelet count – help your blood clot

Bruising and bleeding
Sore mouth
Delayed nausea and flu-like symptoms typically 2-5 days after treatment
Peripheral neuropathy
Hearing loss
Always notify your doctor of side effects.
Are Researchers Adding to 1st Line Therapy?
A recent study suggested that patients diagnosed with malignant pleural mesothelioma, without any previous systemic chemotherapy, may benefit from another chemotherapy drug, Avastin. Avastin (bevacizumab) will be added to the combination of alimta and cisplatin.
223 patients in a controlled trial of 448 patients, showed a 2.7 month improvement in survival. Patients also reported an improvement in fatigue and insomnia. Oncologist, Dr. Marjorie Zauderer from Memorial Sloan Kettering Cancer Center, believes the results to be "impressive." She feels this 3 drug combination could be a, "new standard of care."
Preventing Chemotherapy Symptoms
To prevent infection:
Avoid friends and family members with colds
Cook foods thoroughly
Use a baking soda mouth rinse or salt water mouth rinse
Wash your hands often
Use an electric razor
To prevent nausea:
Eat small, frequent meals throughout the day
Drink ginger tea or ginger flavored products
Suck on lemon drops
Avoid spicy or strong smelling foods; choose cold foods
Use guided imagery and soothing music to relax your body
Remember to drink lots of fluids to prevent kidney damage. It's also extremely important to ask your doctor what the success rate of chemotherapy is for the stage and cell type of mesothelioma that you have. This way, you go into the treatment knowing what to expect about your prognosis.
Remember, your prognosis is based on statistics and it's possible to beat those statistics.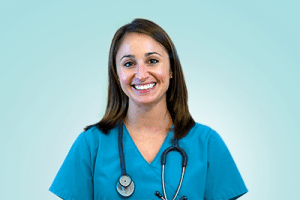 If you have any questions or need help discussing your treatment plan, do not hesitate to contact me at jenna@mesotheliomaguide.com or 1-888-385-2024 x 102.