When a patient is diagnosed with mesothelioma, they often have questions and concerns about their diet. One question they may find themselves having is, "Am I going to have to cut out my desserts?"
From our visit at Baylor, we learned that mesothelioma specialist, Dr. Sugarbaker, prefers his patients to have a high protein and low sugar diet.
However, "That does not mean a restrictive diet. That does not mean, you know, like making yourself miserable. For a lot of our patients it turns out they don't need any diet restrictions at all because they're malnourished," said Baylor's dietician, Cheryl Bixby.
Here at Mesothelioma Guide, we have gathered 3 dessert recipes that are guaranteed to help with a concerned sweet tooth. All of these recipes consist of substitutions that help make them healthier alternatives.
Brownies
This recipe consists of dark cocoa powder. In moderate serving sizes, dark cocoa powder is actually extremely healthy for you. It is rich in flavonoids that have strong antioxidant properties.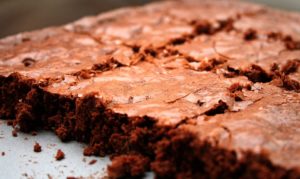 What you will need
3 tablespoons of low-sodium butter
½ cup of brown rice syrup
10 tablespoons of unsweetened dark cocoa powder
1 teaspoon of vanilla
2 eggs
½ cup of whole wheat flour
½ cup of chopped pecans
Steps
Turn your stove top to low heat. In a medium saucepan, melt butter.
In your saucepan, stir in the brown rice syrup and whisk in the cocoa powder. Continue whisking your ingredients until they are well blended.
Remove from heat and blend in the eggs.
Add: vanilla, whole wheat flour, and pecans. Stir all of these ingredients well.
Lightly grease with an oil or cooking spray a baking pan. Pour your batter into your baking pan.
Bake for 30 minutes.
Let cool and enjoy!
Outside of this recipe, you can reap the cancer-fighting benefits of dark cocoa powder by simply adding 2 to 4 tablespoons of it to the foods that you enjoy. For example, you can add it in your oatmeal, smoothies or shakes.
Energy Bars
Not only does this recipe include chocolate, but it also contains oatmeal. Oatmeal not only promotes appetite suppression, but it has the ability to help boost your immune system.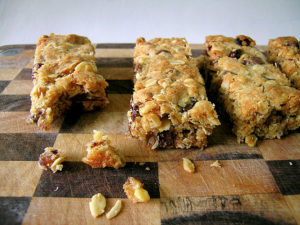 What you will need
2 cups of quick-cooking oatmeal
½ cup of almonds
⅔ cup of cranberries
1 tablespoon of cinnamon
½ cup of honey
½ cup of organic almond butter
½ cup of unsweetened almond milk
½ cup of applesauce
½ cup of dark chocolate chips
2 teaspoons of vanilla
Steps
Mix all of your ingredients in a large bowl.
In a lined and oiled sheet pan, add your mixture and press it.
Freeze your mixture until it is firm.
Cut your mixture into bars before serving.
Keep unserved bars refrigerated.
Since this recipe requires no baking, it would be perfect for a mesothelioma patient that is looking for a quick snack. It's also great for a patient to take with them while they're on the go, especially if they need a boost of energy after experiencing treatment.
Cake
Surprisingly, this recipe calls for black beans. This superfood is not only packed with nutrition, but research has revealed that black beans have great anticancer properties.
3

Flourless Chocolate Cake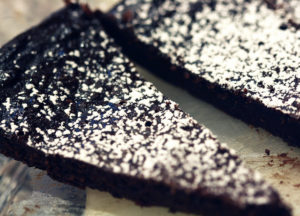 What you will need
1 ½ cups of cooked black beans
4 large eggs
1 tablespoon of mint extract
1 teaspoon of stevia
5 tablespoons of vegetable oil
⅓ cup of honey
6 tablespoons of unsweetened cocoa powder
1 teaspoon of baking powder
½ teaspoon of baking soda
A pinch of salt
Fresh mint leaves, for garnishing
Steps
Preheat your oven to 350°F.
Blend: beans, 2 eggs, stevia, oil, honey, and mint extract in a blender. Blend these ingredients until they are completely smooth.
In a small bowl combine: cocoa powder, baking soda, and baking powder.
In another small bowl beat together your remaining 2 eggs. Pour your bean batter into your egg mixture and mix. Make sure you mix your ingredients well.
Stir in your cocoa powder to your bean batter. Beat the mixture until smooth.
Pour batter in a greased or oiled cake pan.
Bake for about 35 to 45 minutes.
Since black beans have such a mild flavor, they do not overpower other ingredients. Do not be afraid of using them in this chocolate cake recipe. You can also receive the benefits of black beans by adding them to other dishes, such as casseroles or meatloaf.