Radiation Treatment Types
There are different types of radiation therapy that are used to treat mesothelioma patients. These options are evaluated after examining tumor size, metastasis, staging, and general health.
Treatment for All Stages of Mesothelioma
Radiation therapy is unique among mesothelioma treatment options in that it can typically be used at any stage of a patient's mesothelioma. Radiation therapy can also be used for both palliative and potentially curative purposes.
Methods Radiation Treatment
External Beam Radiation

External beam radiation is the traditional form of radiation treatment for cancer patients. Traditional external beam methods use X-Rays or CT scans to administer radiation.

3D-CRT

3-Dimensional conformal radiation therapy is an advanced form of external beam radiation. 3D-CRT is a precise method that allows the tumor to be directly targeted.

IMRT

Intensity-modulated radiation treatment is another form of external beam radiation. It differs from other external beam methods in that it can administer different levels of radiation simultaneously.

Intraoperative Radiation

Intraoperative radiation therapy is the only radiation that is delivered during surgical procedures. It involves applying radiation directly to cancerous tumors for maximum results.
There are 2 general types of radiation therapy, external beam radiation and intraoperative radiation therapy. Each depends predominantly on the size of the tumor and how far the radiation has to travel through the body to reach the tumor.
Intraoperative therapy is typically given to patients in whom radiation would pass through too much tissue. External beam radiation, however, is the most common form of therapy.
Learn more about radiation options available to you in our free Mesothelioma Guide.
External Beam Radiation (EBR)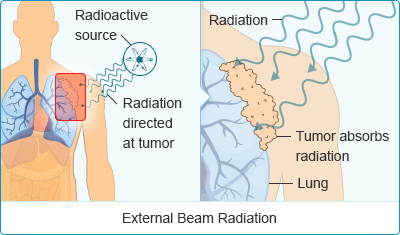 External beam radiation is effective in treating all stages of mesothelioma. This technique involves using a radiation machine (X-ray, CT) to deliver high-energy beams to the location of the mesothelioma.
Doctors take precise measurements of the tumor. This is to ensure that radiation beams directly target the tumor without damaging healthy cells. The radiation dosage varies depending on the size of the tumor. Radiation treatment only lasts 5-10 minutes depending on the size of the affected area and office visits (from start to finish) are usually no longer than 30 minutes.
Treatment is usually performed at an outpatient center, 5 days a week, for 3-10 weeks. Following treatment, patients follow up with their oncologist about the next steps in treatment and/or recovery.
Three-dimensional Conformal Radiation Therapy (3D-CRT)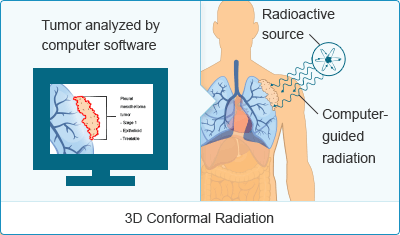 3D – CRT, a type of external beam radiation, uses special imaging scanners and computers to target the radiation. Computers have become a critical tool in radiation therapy. These specialized computers manage everything from calibration of the radiation machine to taking digital images of the affected area.
3D-CRT uses advanced software and machines to deliver radiation to very precisely shaped target areas. This confines the radiation to the tumor itself, protecting nearby healthy tissue. Less radiation to the surrounding organs results in a faster recovery for patients.
Intensity-Modulated Radiation Therapy (IMRT)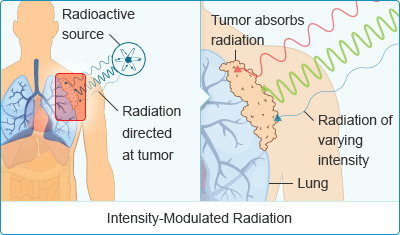 IMRT is one of the most advanced types of external beam radiation for non-invasive cancer treatment. Similar to 3D-CRT, IMRT delivers a strong dose of radiation to the tumor. However, IMRT can produce different levels of radiation at the same time.
The beam strength can be increased on larger parts of the tumor resulting in more damage to malignant tissue. Nearby tissue is damaged much less because lower amounts of radiation are used along the margins of the tumor.
Patients experience faster recovery because less healthy tissue repair is required. However, there is an increased risk of toxicity (radiation sickness) with IMRT. Toxicity can include long-term health complications like pneumonia, cardiomyopathy, or coronary disease.