Dr. Brian LoggieFocus: Peritoneal Mesothelioma
Creighton University School of Medicine
7500 Mercy Road
Omaha, NE
Dr. Loggie has conducted a multitude of studies on peritoneal mesothelioma, leading to significantly advanced treatments such as heated chemotherapy.
About Dr. Loggie
Dr. Loggie is an accomplished surgical oncologist and an expert on peritoneal carcinomatosis, making him one of the leading specialists treating peritoneal mesothelioma. Dr. Loggie was instrumental in developing heated intraperitoneal chemotherapy (HIPEC) for mesothelioma.
Medical Degree and Residencies

M.D. McGill University, Montreal, Canada, 1979. Dr. Loggie completed his residency at Montreal General Hospital (1980-1986).

Professorship

Chief of the Division of Surgical Oncology and director of the Cancer Biology Program and professor of surgery.
Dr. Loggie has been a professor of surgery and director of the Cancer Biology Program at Creighton University Medical Center in Omaha, Nebraska, since 2002. A surgical oncology specialist, Dr. Loggie founded the university's surgical oncology program. Since then, he has written or co-authored several articles and research papers on treatments for peritoneal mesothelioma. Many of his works appear in journals such as the Annals of Surgical Oncology and the World Journal of Surgical Oncology.
HIPEC makes chemotherapy drugs more effective against mesothelioma, especially when combined with cytoreductive surgery to remove peritoneal tumors. Thanks to Dr. Loggie and his team, the procedure is now widely used. Today, he is at the forefront of clinical research into the treatment of peritoneal carcinomatosis and peritoneal mesothelioma.
In 2010, he further demonstrated his dedication to patient care by leading a team of doctors and nurses to Haiti immediately following the island nation's devastating earthquake. For 11 days, the medical team worked 14-hour shifts under harsh and deplorable conditions. During this time, they treated injuries like open and infected fractures, saving many lives.
Dr. Loggie's Accomplishments
Experienced surgical oncologist specializing in peritoneal mesothelioma
Selected by peers for inclusion in The Best Doctors in America, 2001-present
Accepted the 2010 Magis Award from Creighton University for leading a team that treated victims of the Haiti earthquake
Selected by peers for inclusion in Castle Connolly's America's Top Doctors in 2011
Get Connected To Dr. Brian Loggie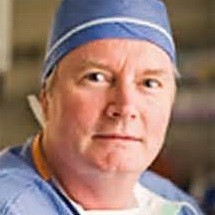 Dr. Loggie is an accomplished surgical oncologist specializing in peritoneal mesothelioma. He has an impressive and long background as an expert on peritoneal mesothelioma, as a physician, an author and a research specialist. He is also a recipient of several prestigious accolades given to him by his peers and has a proven dedication to patient welfare and treatment.
Why Choose Dr. Loggie?
Highly personalized treatment approach
Minimally invasive surgical approach
Over 20 years experience
Dr. Loggie and HIPEC
Dr. Loggie served as part of a team of physicians who conducted a study on the benefits of cytoreductive surgery plus heated intraperitoneal chemotherapy (HIPEC) with mitomycin C. Mitomycin C is an antibiotic shown to have antitumor activity as a palliative treatment for peritoneal mesothelioma. The purpose of the study was to measure the quality of life (QOL) of survivors after treatment.
The results showed that 62.5% of patients described their health as excellent or very good after treatment. In 94% of cases, patients reported no limitations on moderate activity.
Dr. Loggie and his team discovered that long-term survival with a good QOL is possible for some patients with peritoneal carcinomatosis and peritoneal mesothelioma after treatment with cytoreductive surgery and HIPEC.
Want to get a referral to see Dr. Loggie? Check out our free Doctor Match program.
Patient and Survivor Jill Litton
West Virginia native Jill Litton first noticed a decline in her health when she turned 50. After a lengthy and difficult diagnostic process, doctors told her she had peritoneal mesothelioma. They gave her 19 months to live. Never one to give up despite a devastating diagnosis, Jill demanded to see an experienced doctor, and thanks to that decision, has survived well past the average prognosis for mesothelioma.
As part of her treatment plan Jill underwent cytoreductive surgery and heated intraperitoneal chemotherapy (HIPEC), which has become the standard treatment for peritoneal mesothelioma at many treatment centers.
Jill went in for her surgery in March 2012. During the procedure, surgeons removed the lining of her abdomen, along with any small, seed-like tumors. They also removed some nonessential organs, which in Jill's case included her spleen, appendix, gallbladder and part of her pancreas. After surgery, HIPEC was administered.
Thanks to the HIPEC procedure, Jill has now survived for over three years and looks forward to more time with her family.
"I have a lot of faith in the HIPEC procedure," Jill said after surgery. "Everyone has to decide for themselves, but it saved my life."