A recently published study has concluded that it is both safe and feasible to use high-dose radiation therapy after surgery. This is important because it further solidifies the effectiveness that multimodal therapy may have for pleural mesothelioma patients.
Pleural mesothelioma accounts for roughly 75 percent of all mesothelioma diagnoses. Sometimes this type of mesothelioma can be misdiagnosed as lung cancer. To make sure that patients are properly diagnosed, it is always a good idea for them to seek a second opinion.
Studying Radiotherapy as a Mesothelioma Treatment
The study was conducted between 2008 and 2012. There were 36 patients with malignant pleural mesothelioma who participated in the study.
19 of the participants had undergone a pleurectomy/decortication. The other 17 had undergone a surgical biopsy.
The patients were treated with accelerated hypofractionated radiotherapy over five consecutive days. This simply means that they received high doses of radiation over a short amount of time. Typical external beam radiation treatments for pleural mesothelioma patients are given 5 days a week for several weeks.
The methods used to deliver the radiation to the patients were:
Helical Tomotherapy:

is an advanced form of intensity-modulated radiation therapy (

IMRT

) that uses several overlapping helical arcs, or rotational beams, to deliver the radiation. It uses tomography scanning technology, the same technology as a CT scan, to accurately create an image of and target the tumor slice-by-slice.

Intensity-Modulated Arc Therapy (IMAT): is another form of radiation therapy that only uses up to three arcs to deliver radiation and uses greater, more effective doses of radiation than helical tomotherapy.
Both helical tomotherapy and IMAT were used because they are very accurate at targeting tumors. They also reduce the amount of radiation that can get to a person's surrounding organs. Out of the 36 patients, there were only 3 cases of grade 3 pneumonitis or lung inflammation.
What is Radiotherapy?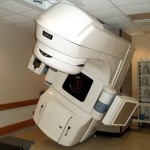 Radiation therapy, or radiotherapy, is the use of high-energy x-rays or proton beams to treat cancer. Depending on the severity of the cancer, radiation may be used destroy the cancer cells completely, or shrink the tumor as a means of palliative care.
Unfortunately, radiation can also damage a patient's healthy cells. Some side effects are possible, although some patients experience none.
Some side effects of radiotherapy are:
Redness or soreness in treatment area
Dry, tender, or itchy skin
Hair loss
Fatigue
Due to the presence of radiation in the chest, a pleural mesothelioma patient may also experience:
Lung inflammation
Difficulty breathing
Cough
Difficulty swallowing
There are many ways a mesothelioma patient can alleviate the side effects of radiation, such as by altering their diet. A patient should consult with their doctor for more ways to ease the side effects they may be experiencing.
Results of the Study
Overall, this phase I study showed promising results for using radiation with malignant pleural mesothelioma patients after their surgeries.
Patients were followed up between 3 and 54 months after the study. The median survival of patients that underwent surgery followed by radiation was 21.6 months. The patients that didn't have surgery had a reduced survival time of 19.4 months.
Researchers determined that even though this trial was successful, more research will need to be done. The team anticipates to conduct a phase 2 dose-escalation trial in the future.

Participating in clinical trials can be very beneficial to mesothelioma patients. Sometimes it opens doors for treatment options that they didn't have before.
It is important that you speak with your doctor if you are considering participating in a clinical trial. For more information about currently recruiting trials, please contact Mesothelioma Guide's patient advocate Jenna Campagna at 888-385-2024 extension 102.