The wait for a maintenance drug for mesothelioma may soon be over. The University of Chicago is sponsoring a new clinical trial using a multipeptide vaccine, S-588210. The trial is for patients with unresectable malignant pleural mesothelioma without progression after first line chemotherapy.
The goal of maintenance therapy is to keep mesothelioma from returning or progressing after it has been treated successfully. As of now, there is only one FDA approved form of treatment for mesothelioma, chemotherapy with a combination of Alimta and Cisplatin.
If the S-588210 vaccine is proven to be effective, patients will have an option for treatment after completing chemotherapy to help prolong their prognosis.
What Is a Cancer Vaccine?
A treatment vaccine helps to boost the body's immune system to fight cancerous cells by recognizing and destroying antigens.
Vaccines are administered in the hopes that they will:
Kill off any remaining cancer cells after other treatment
Stop the growth of the cancer
Prevent the cancer from recurring
What is S-588210?
S-588210 is a multipeptide cancer vaccine comprised of a combination of injectable drugs. The vaccine is intended to stimulate an immune response against tumor cells expressing certain peptides, ultimately resulting in cell breakdown and decreased tumor growth.
Patients in this trial will have pre and post vaccination blood samples taken in order to identify any response to the vaccine.
3 Main Goals of the Trial
1

Evaluate the safety of S-588210

2

Determine the disease control rate or percentage of patients who have achieved complete response, partial response, or stable disease

3

Determine the progression-free-survival or length of time during and after the treatment that the patient does not have cancer progression
The Phase 1b Trial
Phase 1 studies usually include a smaller number of patients and test the best way to administer a new treatment along with the best dose. Patients can expect to have a lot of blood work because researchers want to know how the new treatment affects the body as well as the cancer. This clinical trial will be a phase 1b randomized trial to investigate the safety, immune system response, and optimal administration frequency of the multipeptide vaccine, S-588210.
Who is Being Recruited?
To participate patients must have:
Malignant pleural mesothelioma
Epithelioid or biphasic histology
4-6 rounds of standard first-line chemotherapy completed
without progression of disease 1-month post treatment
This study plans to enroll 16 patients. The participants will be assigned by chance to separate groups that compare different treatments. Using chance to assign patients to groups means that the groups will be similar and can be compared objectively. One group will receive the vaccine weekly where the other group will receive the vaccine every other week.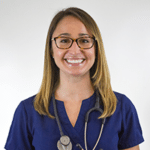 If you would like more information on this trial or find out if you are eligible please contact me directly at:
888-385-2024 x 102 or jenna@mesotheliomaguide.com.