Dr. David SugarbakerFocus: Pleural Mesothelioma
Baylor St. Luke's Medical Center
6620 Main Street
Houston, TX
As the leading surgeon treating patients with pleural mesothelioma, Dr. Sugarbaker has helped thousands of patients through the development of the extrapleural pneumonectomy.
About Dr. Sugarbaker
Dr. David Sugarbaker currently serves as the chief of thoracic surgery of the Michael E. DeBakey Department of Surgery at Baylor St. Luke's Medical Center. He is considered the leading thoracic surgeon performing extrapleural pneumonectomy (EPP) surgery.
Medical Degree and Residency

MD Cornell University Medical College, NY 1979. Dr. Sugarbaker completed residency at Peter Bent Brigham Hospital in Surgery (1979-1985) and Toronto General Hospital (1986-1988).

Professorship

Dr. Sugarbaker was a professor of surgical oncology at Harvard Medical School for over 14 years and is now professor of surgery at Baylor College of Medicine.
With 35 years of experience under his belt, Dr. Sugarbaker is well-versed in both surgery and research involving patients with pleural mesothelioma.
"When hope is in the equation, anything is possible" – Dr. Sugarbaker
Dr. Sugarbaker's Accomplishments
Specializes in treating Stages 1, 2 pleural mesothelioma
Pioneered the extrapleural pneumonectomy with chemotherapy and radiation
Has performed thousands of successful surgeries over a 30+ year career
Get Connected To Dr. David Sugarbaker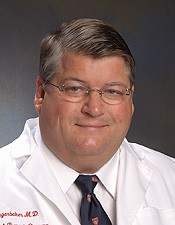 Many consider Dr. Sugarbaker to be the leading pleural mesothelioma surgeon in America. Dr. Sugarbaker developed the extrapleural pneumonectomy (EPP), which is now the most successful pleural mesothelioma surgery. Our patient advocates can help you set up an appointment with Dr. Sugarbaker.
Why Choose Dr. David Sugarbaker?
He pioneered the life-saving extrapleural pneumonectomy (EPP) surgery.
Patients under his care live twice as long as the average mesothelioma patient.
He has helped mesothelioma patients, such as Sissy Hoffman, reach remission.
Dr. Sugarbaker's Treatment Plan
Extrapleural Pneumonectomy
The extrapleural pneumonectomy (EPP) was pioneered by Dr. David Sugarbaker and has been extremely successful in leading pleural mesothelioma patients into remission. The EPP is one of the more successful treatment options for patients with Stages 1, 2 pleural mesothelioma. Patients who receive an EPP often see their life expectancy and quality of life improve significantly.
During surgery, Dr. Sugarbaker removes the entire diseased lung so that the cancer cannot spread any further; he also removes the pleura, part of the diaphragm, and part of the pericardium (the membrane covering the heart).
As part of the procedure, an incision is made either in the middle (sternotomy) or on the side (thoracotomy) of the chest that is about 9 inches long. Dr. Sugarbaker examines the chest cavity and removes any evidence of cancer from the diaphragm and pericardium, while removing the infected lung altogether.
When paired with chemotherapy and/or radiation, an EPP can drastically increase the life expectancy of a mesothelioma patient.
Steps of the EPP Treatment Process
Extrapleural pneumonectomy (EPP)
Removes the diseased lung as well as the pleural space covering the lung, heart, and diaphragm. This removes as much cancerous material as possible.

Intrapleural Chemotherapy
Following the lung removal, heated chemotherapy drugs (107 degrees) are applied directly to the cancerous area to kill any remaining cells.

Radiation Therapy
Radiation therapy keeps cancer cells from regrouping and decreases the risk of future recurrence. It may be given before or after an EPP.
Patient Experience
Many mesothelioma patients have been treated by Dr. Sugarbaker and experienced the incredible results of his procedures. Many survivors of mesothelioma who received this specialized care proudly share what it meant to them and how it saved their lives.
Sissy Hoffman
"Dr. Sugarbaker and the IMP team have saved my life, and I hope I am able to pay it forward."

Finnbogi Olafsson
"Everyone was informed about everything, and everyone – from the reception staff to the cleaning staff to Dr. Sugarbaker – did their best for us."

Gaetano Formica
"The IMP team is like family when you are far from home, and they even make you feel a little bit like you are at home, in a way."
Learn how survivors have beat the odds with by seeing specialists like Dr. Sugarbaker in our free Mesothelioma Survivors Guide.