University of Maryland Comprehensive Cancer Center
The University of Maryland Comprehensive Cancer Center
22 S. Greene Street
Baltimore, MD
The University of Maryland Marlene and Stewart Greenebaum Comprehensive Cancer Center (UMGCCC) is designated as a National Cancer Institute (NCI) comprehensive center, meaning that it belongs to the upper echelon of treatment centers for rare cancers like pleural mesothelioma.
Benefits of The UMGCCC
The Marlene and Stewart Greenebaum Comprehensive Cancer Center at the University of Maryland is one of the top-rated hospitals for the treatment of mesothelioma. The combination of a full research facility, the academic medical community on campus, and the national funding from the NCI helps to support the extensive research being conducted at this center on rare diseases.
Why UMGCCC?
Multidisciplinary Approach and Minimally Invasive Procedures

The UMGCCC utilizes some of the most advanced procedures and multimodal treatments to care for patients suffering from serious terminal illnesses like malignant pleural mesothelioma.

Doctors at the University of Maryland developed what is known as photodynamic therapy, which uses a combination of photosensitive drugs and different frequencies of light to kill cancer cells.

NCI Designated Comprehensive Center

With funding from the National Cancer Institute, the UMGCCC can provide patients with the most advanced technology and facilities available for their cancer treatment.

This hospital also has a dedicated Mesothelioma and Thoracic Oncology Treatment and Research Center which focuses on furthering research and developing new treatments to fight mesothelioma cancer.

Extensive Clinical Trials Program

The Universiy of Maryland Cancer Center also boasts an extensive array of over 200 clinical trials being conducted at any one time, on a variety of different diseases including mesothelioma.

Clinical trials are incredibly important in the development of new treatments and drugs that fight aggressive cancers like mesothelioma. Without the work done by centers with large numbers of clinical trials, there would be no refinement of procedures to improve a patient's prognosis.
Get Connected to The University of Maryland Comprehensive Cancer Center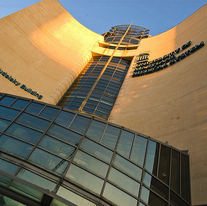 The UMGCCC is known as one of the best centers for treating pleural mesothelioma including the popular pleurectomy with decortication (P/D) procedure and a wide range of clinical trials and multimodal treatments for patients.
Experienced Staff
One-stop center for care
Minimally invasive techniques
World Class Surgeon on Staff
The UMGCCC is unique to most cancer centers since they have a dedicated mesothelioma program at their hospital. This focus on specialized treatment is supported by world-class doctors and surgeons on staff at the University of Maryland with extensive knowledge and experience with treating rare diseases.
Dr. Friedberg is the head of the Division of Thoracic Surgery at the University of Maryland School of Medicine. He trained under the late Dr. David Sugarbaker during his time at Brigham and Women's Hospital before joining the team at the University of Maryland. Dr. Friedberg started his career at the University of Pennsylvania with their Pleural Mesothelioma Program before joining the team at UMGCCC.
His background has given him a great deal of experience in treating mesothelioma, which can be seen in his familiarity with both the extrapleural pneumonectomy (EPP) and the pleurectomy/decortication (P/D) procedures. Dr. Friedberg is on the cutting edge of researching and utilizing new treatment methods like photodynamic therapy (PDT), which uses a drug that attaches to tumor cells and can then be targeted and eliminated by using specific frequencies of light.
His work also includes research into other methods of treating symptoms of mesothelioma like an inhalable compound designed to seal pulmonary air leaks. With his team of radiologists, oncologists, pathologists, and surgeons, the patients admitted to UMGCCC are given the most comprehensive care available for treating mesothelioma.
Dr. Friedberg is known for educating his patients on malignant pleural mesothelioma:
Is UMGCCC Right For You?
The University of Maryland Cancer Center has provided life-saving treatment for many people suffering from mesothelioma and continues to research new ways to fight the disease. Reasons patients have chosen UMGCCC as their treatment center include:
Access to new clinical trials and studies
Decades of experience with treating mesothelioma
Specialized support and counseling for patients
The team at Mesothelioma Guide is knowledgeable of the best cancer centers for patients based on diagnosis and maintains a relationship with all the top centers. Contact one of our patient advocates at 1-888-385-2024 to get a complete list of cancer center recommendations in our free Mesothelioma Guide.