Sidney Kimmel Comprehensive Cancer Center at Johns Hopkins
Sidney Kimmel Comprehensive Cancer Center at Johns Hopkins
401 N. Broadway
Baltimore, MD
The specialized mesothelioma treatment and patient care available at Sidney Kimmel at Johns Hopkins makes it one of the best programs for mesothelioma patients on the East Coast.
Benefits of Sidney Kimmel
Founded in 1973, the Sidney Kimmel Cancer Center is a branch of the nationally recognized Johns Hopkins Hospital in Baltimore, Maryland. This cancer center is at the hub of some of the most promising treatments for mesothelioma patients in the country.
Why Sidney Kimmel?
Multidisciplinary Team

Having a team of mesothelioma specialists from different disciplines is essential to getting the best treatment. From diagnosis to treatment, the team at Sidney Kimmel has experience treating mesothelioma at every step.

Patients who are interested in clinical trials can turn to this cancer center for some of the latest trials in mesothelioma treatment. This cancer center has conducted research in immunotherapy, biomarkers for diagnosis and traditional treatment methods.

Patient Care

This treatment center has a focus on patient and family care, as demonstrated by services such as their cancer counseling center and pain management programs. There is also housing available for families traveling from out of town to take advantage of their services.
Get Connected To Sidney Kimmel Cancer Center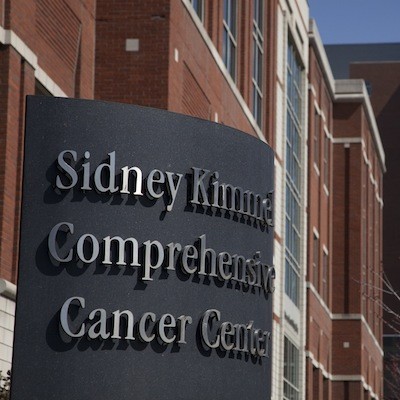 The Sidney Kimmel Cancer Center is one of the most reputable cancer centers in the nation. Their mesothelioma program has been essential to improving the lives of patients and the quality of treatment in mesothelioma care.
Why Choose Sidney Kimmel Cancer Center?
Improve survival rate with multimodal treatment
Expand your treatment options with access to clinical trials
Get treated by a team known for its patient-focused care
Mesothelioma Treatment at Sidney Kimmel
Recognizing that a proper diagnosis is essential to the best treatment possible, Sidney Kimmel has a second opinions program for patients with all types of lung malignancies, including mesothelioma. Second opinions can reveal new options in treatment for patients based on their stage or mesothelioma cell type.
The mesothelioma program at Sidney Kimmel features a full multidisciplinary treatment team. Having a multidisciplinary team is important to getting the best treatment available, especially since patients generally fare better when they are treated with several modes of therapy.
Sidney Kimmel has a full range of mesothelioma doctors specializing in radiation, oncology and surgery.
Clinical Trials at Sidney Kimmel
The Sidney Kimmel Cancer Center has been involved in many clinical trials for mesothelioma. The cancer center has participated in clinical trials that have contributed to how mesothelioma is treated. Some trials that took place at Sidney Kimmel are:
Second-Line Therapy for Mesothelioma

NGR-hTNF is a new second-line treatment with potential for preventing metastasis and tumor growth in mesothelioma patients. It is being tested on patients who have already had their first line of treatment with chemotherapy.

Attacking Mesothelioma Stem Cells

Sidney Kimmel is participating in the Phase 2 study of defactinib, a drug that attacks mesothelioma stem cells and may prevent tumor recurrence, if the trial is successful.

Determining Genetic Risk

With an eye on the future, Sidney Kimmel is contributing to research designed to assess if some patients are genetically predisposed to developing mesothelioma. This research could result in earlier diagnoses in the future.
Is Sidney Kimmel Right For You?
With an experienced mesothelioma program treating many patients every year, it's no wonder patients seek out this cancer center. Mesothelioma patients often choose Sidney Kimmel for reasons including:
Home to top mesothelioma specialists
Wide variety of treatment options
Access to new clinical trials
If you think the Sidney Kimmel Comprehensive Cancer Center would fit your treatment needs, get in touch with their mesothelioma specialists today.