Brigham and Women's Hospital
Brigham and Women's Hospital
75 Francis St.
Boston, MA
Brigham and Women's Hospital, located in Boston, Massachusetts, offers state-of-the-art treatment for patients who are suffering from malignant pleural mesothelioma.
Benefits of Brigham and Women's Hospital
For many years, Brigham and Women's Hospital has been home to some of the brightest minds in pleural mesothelioma treatment. They have made significant advances in mesothelioma treatment and brought hope to the mesothelioma community.
Why Brigham and Women's Hospital?
Clinical Program

The International Mesothelioma Program at Brigham and Women's Hospital has a strong clinical focus, dedicated to developing the most effective, innovative treatment strategies. Several clinical trials are studying the most effective ways to conduct curative surgeries in conjunction with different chemotherapy drugs.

Research Program

The International Mesothelioma Program's research arm is comprised of basic, translational and clinical research scientists. It aims to understand how mesothelioma develops and therefore how to beat the cancer.

Support Program

The dedicated Brigham and Women's Hospital mesothelioma support team provides counseling, emotional support and spiritual help to improve the quality of life for their patients.

The staff also provides practical help with housing and financial needs. The Thornton and Naumes Housing Assistance Program is specifically for families of a mesothelioma patient receiving treatment.
Get Connected To Brigham and Women's Hospital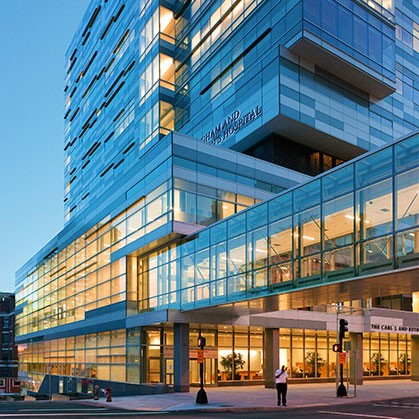 Brigham and Women's Hospital is home to the International Mesothelioma Program, one of the most respected and successful mesothelioma treatment centers in the country.
Why Choose Brigham and Women's Hospital?
The renowned International Mesothelioma Program
Home to top mesothelioma specialists in the nation
Housing and financial assistance is available
A Truly Comprehensive Mesothelioma Program
Brigham and Women's Hospital is an international leader in many areas of medicine, launching a comprehensive mesothelioma program to address the rise of mesothelioma cases worldwide. The International Mesothelioma Program started in 2002 and brings together the most knowledgeable doctors to look for new ways to fight mesothelioma.
U.S. News & World Report ranked Brigham and Women's Hospital among the nation's top hospitals numerous times. In the 2019-2020 rankings, the hospital was ranked 13th overall and fifth for the specific specialty area of cancer treatment.
From 2006 to 2018, the Brigham and Women's Hospital mesothelioma staff performed 1,448 mesothelioma surgeries and conducted 1,701 consultations. The program treats approximately 300 patients each year, and the pleural mesothelioma specialists have a track record of helping patients with this aggressive cancer.
The multidisciplinary team is comprised of sub-teams of:
Surgeons
Medical oncologists (cancer doctors who specialize in chemotherapy or other targeted therapy, such as immunotherapy)
Radiation oncologists (doctors who specialize in using radiation for cancer)
Radiologists (doctors who read and interpret imaging scans)
Pathologists (doctors who study tissue and examines the biopsy during the diagnostic process)
Thoracic anesthesiologists
The patient care team includes a dedicated nutritionist, social worker, chaplain, six-member clinical research group, patient advocate and program navigator. The program navigator is one of the main points of contact for a patient. This person manages the surgery schedule, preoperative care and postoperative care.
Housing Assistance at Brigham and Women's Hospital
The staff also includes a housing director, an essential role considering how many out-of-area mesothelioma patients come to Brigham and Women's Hospital.
More than half of the mesothelioma patients who seek care at the International mesothelioma Program live a far distance from the New England location. Most out-of-town patients have a family member or friend with them for emotional support. The Thornton and Naumes Housing Assistance Program provides housing assistance to these loved ones.
The house opened in 2008 and is located just across the street from the Brigham and Women's Hospital main entrance. The average stay in the house is 19 days, and many family members or friends make repeated trips and consider the residence a second home.
The three-story Victorian house can accommodate up to three families at a time. If space is unavailable, the support staff at Brigham and Women's Hospital will work with nearby hotels and inns to provide discounted lodging rates.
Innovation in Mesothelioma Treatment
Brigham and Women's Hospital is a major teaching arm of Harvard Medical School, continuously working to improve its knowledge and extend its reach into the medical community.
The hospital has a tumor bank, established in 1992, that contains frozen samples of more than 600 malignant pleural mesothelioma cases, supplying specimens for studies. The tumor bank provides researchers with hands-on information to help create profiles of abnormalities and pioneer new diagnostic methods.
Brigham and Women's Hospital is a definitive leader in mesothelioma treatment and their research has helped many patients become survivors. In February 1996, survivor Sissy H. had radical treatment to remove her mesothelioma tumors. Sissy is still alive today thanks to these treatments.
Furthering the level of support offered by Brigham and Women's Hospital are services like the Patient Matching Program. This program matches patients with mesothelioma survivors who have received the same type of treatment as is planned.
Birthplace of Extrapleural Pneumonectomy
The extrapleural pneumonectomy (EPP), a radical, life-saving surgical option for pleural mesothelioma patients, is considered the gold-standard of treatment. It has prolonged the lives of numerous patients with this cancer.
This surgical procedure was developed and perfected by renowned specialist Dr. David Sugarbaker during his time at Brigham and Women's Hospital. The mesothelioma surgeons at the facility are experts in this treatment method.
Dana-Farber Cancer Institute
Founded in 1947, Dana-Farber has been a pioneer of cancer-related research and treatment for decades. Dana-Farber is an internationally recognized cancer center with close involvement in the International Mesothelioma Program.
The Institute employs nearly 4,000 people and supports more than 300,000 patient visits per year while remaining involved in approximately 700 clinical trials.
By partnering with Brigham and Women's Cancer Center and the International Mesothelioma Program, Dana-Farber is able to collaborate with the brightest minds and leading experts in cancer care. While Brigham and Women's is a leader in the field of mesothelioma surgery, Dana-Farber brings the added benefit of its medical oncology team to the table.