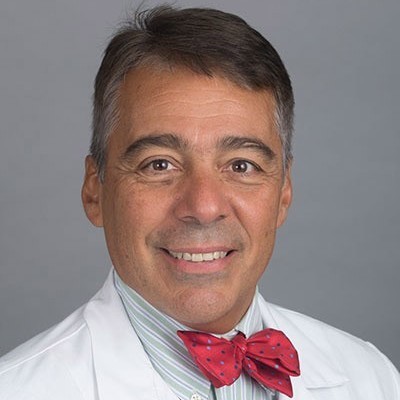 Dr. Marcelo DaSilvaFocus: Pleural and Peritoneal Mesothelioma
AdventHealth
2415 N. Orange Ave. Suite 700
Orlando, FL
Dr. Marcelo DaSilva is the first mesothelioma surgeon to specialize in treating both pleural and peritoneal patients with surgery and heated chemotherapy.
About Dr. DaSilva
Dr. DaSilva from AdventHealth in Central Florida has been practicing medicine for 25 years. He started at AdventHealth in November 2019 and is the chief of the hospital system's thoracic surgery services.
He is known for his vast experience with mesothelioma and his optimistic outlook for treating patients. He is board certified in general surgery, trauma and surgical critical care, and cardiothoracic surgery.
He currently travels between two states to treat patients. He was a surgeon at Brigham and Woman's Hospital in Massachusetts and played a pivotal role in bringing peritoneal treatment to their mesothelioma program.
Medical Degree and Residencies

Universidade Gama Filho in Rio de Janeiro, Brazil, 1990
Sound Shore Medical Center, formerly New Rochelle Medical Center, Surgery, 1996
Pennsylvania State University College of Medicine, General Surgery, 1999

Professional Titles

Chief of Thoracic Surgery Services at AdventHealth
He believes in an individualized approach to creating treatment plans. Although he will occasionally review a patient's files without seeing them first, he says that seeing a patient in person is an important step to figuring out if they should undergo surgery.
"Unless there's really an economic restriction for the patient to fly out and stay here or see us I would rather see them." Dr. DaSilva told Mesothelioma Guide in an interview.
"There's what we call the eyeball test," Dr. DaSilva said, meaning that interacting with the patient helps surgeons decide if the patient is healthy and resilient enough for major surgery. He doesn't have a specific age limit for his patients either but takes many aspects of their health into account.
Treatments Dr. DaSilva Performs
Extrapleural pneumonectomy (EPP)
Pleurectomy with decortication (P/D)
Cytoreduction
Heated chemotherapy (HIPEC/HIOC)
Get Connected to Dr. Marcelo DaSilva
Although Dr. DaSilva has been known for his work with pleural mesothelioma patients, he is also dedicated to bringing exceptional treatment to peritoneal patients and patients who may have both types of mesothelioma. He is a caring, optimistic, and experienced surgeon.
Why Choose Dr. DaSilva?
Personal and individualized care
Pleural and peritoneal surgeon
Creating a Comprehensive Program
For years, Dr. DaSilva dreamed about creating a truly comprehensive mesothelioma program that could treat patients with both pleural and peritoneal mesothelioma. According to Dr. DaSilva, about 30 percent of his pleural mesothelioma patients eventually return with peritoneal mesothelioma.
"What we noticed in the past was, they come, they have the surgery in the chest, then two or three years later they have abdominal," Dr. DaSilva said. For a long time he had to refer these patients to other hospitals for their peritoneal treatment.
"We have to say, 'we don't do this over here, you have to go someplace else.' They kind of feel like we're cutting and running…and that didn't sit well with our group (at Brigham & Women's Health) and so that's when we decided: hey let's just do it ourselves."
Dr. DaSilva believes this new peritoneal program is complementary to what they were already been doing for pleural patients.
Dr. DaSilva hates turning away patients; that's why he created the peritoneal program and why he will refer patients straight away to other treatments available if he doesn't think he can perform surgery on them.
"I've been blamed for many things: one of them being optimistic."
He brings this experience and care for his patients to AdventHealth.
If you think Dr. DaSilva and AdventHealth are a good fit for your treatment, please contact our patient advocates. They are dedicated to connecting patients to the best doctors in the country through our free doctor match program.