Mesothelioma deaths are still rising in the United States according to a report by the Centers for Disease Control and Prevention (CDC). Previous reports estimated that mesothelioma deaths would begin to decline in 2005. This new report proves otherwise. The report also underscores the importance of prevention. The easiest way to prevent mesothelioma in future generations is by spreading awareness about asbestos exposure, the only known cause of this cancer.
Key Statistics From the CDC's Report
45,221 people died of mesothelioma between 1999 and 2015. The CDC analyzed data from death certificates between those years. In 1999, 2,479 people died of mesothelioma. In 2015, 2,597 people died of mesothelioma. In the years between, no year had less deaths than 1999.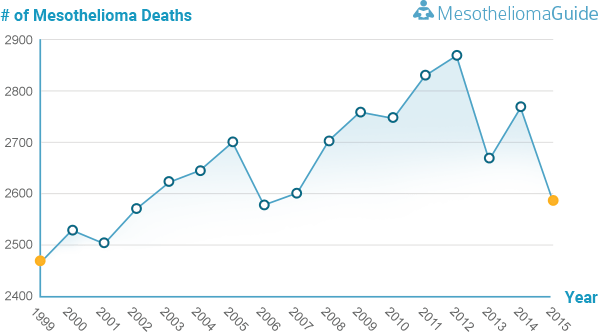 People under 25 years old were excluded because it's more difficult to understand why they developed mesothelioma. Mesothelioma has a long latency period. It can be decades from the time a person is exposed to asbestos to the time they develop mesothelioma. Mesothelioma's latency period is usually about 20-40 years but has been known to be as long as 71 years.
Mesothelioma deaths increased for persons of white, black, and Asian or Pacific Islander race, and all ethnic groups. Deaths also increased for both women and men and people age 85 or older. However, mesothelioma deaths decreased for people 35-64 years old.
Why Are People Still Developing Mesothelioma?
Asbestos is not banned in the United States. It is somewhat regulated and is no longer used frequently. Even though asbestos is not used as often now, it is still found in products made when asbestos was popular.
Mesothelioma is usually caused by asbestos use on the job. Occupational exposure accounts for most mesothelioma cases. Because of the long latency period, some newly diagnosed patients may have been exposed before asbestos use declined.
Now, asbestos is rarely used by any industry. However, the asbestos used decades ago in construction is still present in many buildings and other structures. Many people are exposed to asbestos while working with these older products.
"Current exposures to commercial asbestos in the United States occur predominantly during maintenance operations and remediation of older buildings containing asbestos," the CDC report explains.
Some cities struggle to regulate home demolition and renovation. In order to complete these projects safely, houses should be checked for asbestos. If asbestos is found, it should be removed by remediation specialists before work begins. If remediation is not done properly, workers and bystanders can be exposed to asbestos.
Preventing Future Mesothelioma Cases
Global Asbestos Awareness Week is coming up soon. The week of April 1-7th is dedicated to spreading asbestos awareness around the world. Asbestos awareness can help prevent mesothelioma in future generations.
"The continuing occurrence of malignant mesothelioma deaths underscores the need for maintaining measures to prevent exposure to asbestos fibers and other causative EMPs [elongate mineral particles] and for ongoing surveillance to monitor temporal trends," the CDC report says.
The EPA plans to review asbestos as a toxic substance in the next few years. Anti-asbestos advocates hope their review will result in an all out ban of the substance. A ban could help reduce the number of mesothelioma cases in the future.