Treatment for peritoneal mesothelioma is only getting better. The University of Montreal's Division of General Surgical Oncology published results from a recent study showing that an overwhelming majority of participants who were treated for mesothelioma increased their survival by three years—a considerable amount of time given that many peritoneal mesothelioma patients are given a prognosis of roughly 12 months.
The study, published online on January 8, 2015, is titled "Cytoreductive surgery and hyperthermic intraperitoneal chemotherapy with oxaliplatin for peritoneal mesothelioma: Preliminary results and survival analysis."
Peritoneal mesothelioma, a cancer affecting the lining of the abdomen, is treated with cytoreductive surgery and heated intraperitoneal chemotherapy (HIPEC) when the disease hasn't metastasized. This procedure involves opening up the abdominal cavity, removing all visible tumors and flushing the abdomen with heated chemotherapy for two hours.
The addition of HIPEC to the surgery is used to kill off any cancerous cells that aren't visible to the naked eye. It also reduces the occurrence of side effects by limiting chemotherapy exposure to the affected part of the body, whereas traditional chemotherapy circulates throughout the body.
Breaking from Traditional Chemotherapy Drugs
The study, led by Dr. Julien Hubert, bolsters the effectiveness of HIPEC. It also shows that other chemotherapy drugs can be used effectively in HIPEC. The procedure typically relies on platinum-based cisplatin chemotherapy—a drug that has proven to have an effect on mesothelioma. Dr. Hubert and his team went a different route; they used a chemotherapy drug known as oxaliplatin, dubbing their procedure "HIPEC-OX."
Oxaliplatin, which is also platinum-based, has been used to treat mesothelioma in the past, but with limited success. Yet, it proved to be effective for participants in the University of Montreal study.
"When comparing survival results as well as morbidity-mortality rates, the present study shows that [cytoreductive surgery] and HIPEC-OX is a valid treatment for peritoneal mesothelioma," the authors of the study concluded.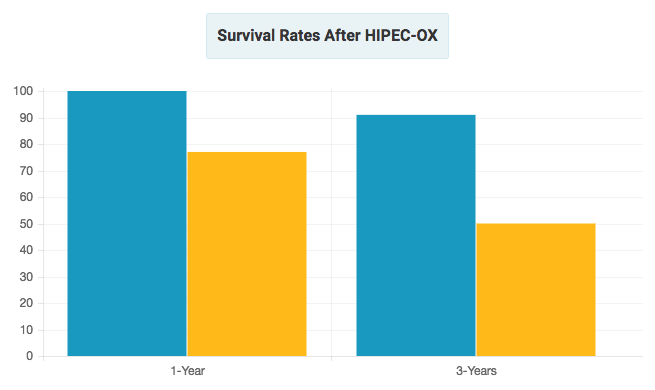 Treating Patients with HIPEC-OX
Nineteen peritoneal mesothelioma patients were treated using cytoreductive surgery and HIPEC-OX. All of the patients had mesothelioma with an epithelioid cell type—the most common cell type.
The results showed that each patient lived more than a year, and 17 patients were still alive after three years. What's even more impressive are the progression-free survival rates, which refer to how long the patients were completely disease-free. Half of the patients treated had no evaluable mesothelioma three years after having HIPEC-OX. This is striking compared to other surgical survival rates.
Previous Criticism Over HIPEC
The HIPEC procedure for peritoneal mesothelioma has received some harsh criticism in the past. Doctors have questioned whether the radical procedure's risks outweighed its benefits. However, mesothelioma specialists like Dr. Paul Sugarbaker have argued that while HIPEC may be radical for some cancers, this is not the case with mesothelioma.
The line of logic is that the poor prognosis attributed to most mesothelioma patients, in addition to the limited number of treatment options, makes HIPEC one of the only treatments that can significantly improve life expectancy.
Many people, like mesothelioma survivor Alexis Kidd, have attributed their survival to HIPEC treatment. Kidd was diagnosed with peritoneal mesothelioma in 2006.
Since then, HIPEC for peritoneal mesothelioma has become more routine, and surgeons have greatly improved the procedure. In general, doctors who tend to be more conservative about aggressive treatments, have their reservations. But patients, such as Alexis Kidd, have advocated HIPEC despite the rigors of the procedure.
All in all, consensus seems to be tipping toward HIPEC as a beneficial treatment for mesothelioma. Results like those found at the University of Montreal are likely to engender more support among doctors.