At a dance club in Illinois in August of 1982, a quiet and shy Scott Casanova asked a beautiful girl named Cynthia Gliosci to dance. That was all it took to spark a romance that culminated in engagement four months later. Scott was a mechanical engineer in training at the Illinois Institute of Technology. He was a man of many trades, constantly tinkering with cars, and always offering help to anyone who needed it. He grew up working on cars with his father and had a giving heart. Scott and Cynthia were married after he completed his degree.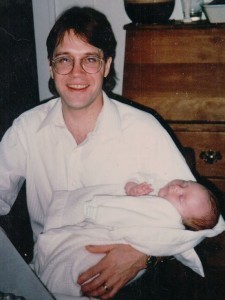 The couple had their first child together in 1986. Little Joe Casanova took after his father, and the two were inseparable. Joe was born with a disability, but Scott and Cynthia didn't let that stop him from leading a normal life and being valued and equal. Scott was extremely patient in teaching his son the same things that his own father taught him. Scott, Cynthia, Joe and Meghan (Cynthia's daughter from a previous relationship) lived a normal life in their house in the suburbs.
In the winter of 1999, the Casanova family's lives would change forever. Cynthia spotted a lump on Scott's left rib cage. In early 2000, Scott began seeing a series of physicians, none of whom could diagnose his mysterious illness. Doctors did discover that he had severe rib destruction, a rare symptom of pleural mesothelioma (cancer caused by exposure to asbestos particles). Scott saw a thoracic surgeon who performed a surgical biopsy. After many unanswered questions, Cynthia finally got an answer: her husband, Scott, had stage 4 malignant mesothelioma. Cynthia told her husband and he insisted that they would talk about it when he got home from work. Scott didn't let the diagnosis dictate his life, and he refused to give up.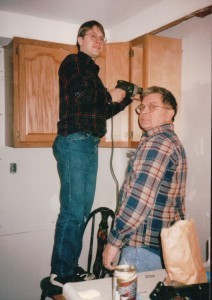 Scott's thoracic surgeon was not optimistic about his prognosis and told the family to get their affairs in order saying that Scott only had about six months to live. The cancer had already spread. Cynthia and Scott began searching for better answers. The couple searched for a specialist who would see them given Scott's prognosis.  They received clinical trial options from Hedy Kindler at the University of Chicago who was conducting clinical trials regarding mesothelioma. Scott told Dr. Kindler that he could "manufacture the ribs" he was missing himself, if she could install them. He was an engineer through and through. He moved forward with clinical trials. The only one that proved affective for Scott was the combination of Cisplatin and Gemcitabine. This combination helped to shrink Scott's tumors by 30%, however his kidney's failed and he was hospitalized. Scott was not dismayed, telling Cynthia, "Even if this this doesn't save me, it will help others down the road."
Two years after his initial diagnosis, Scott stopped working, which broke his heart. Cynthia took him to work to collect his things. She said, "taking him to clean out his desk was heartbreaking and you could see he was deflated and his heart crushed." After returning home, Scott was fit for a larger brace than the one he already had. This brace was meant to keep his head up; the mesothelioma had taken over his spine and made it difficult to sit up all the way. After a family vacation to New York City to see the 4th of July fireworks and a cruise to Canada, Scott underwent a surgery on his back. The purpose of this surgery was to possibly give him the ability to walk again.(Family on vacation)Scott began standardized chemotherapy and his father began to take him to the appointments in order to spend some extra time with his son. The mesothelioma continued to spread to the point where Scott's spine was now involved. He began to have trouble walking. Even though Scott was in extensive pain, he never let it dampen his spirits. He continued working while fighting his mesothelioma diagnosis.
Scott never complained about the pain he was in, always sharing a positive outlook on his situation. The surgery entailed putting steel rods down the entirety of his spine. About two weeks after this surgery, Cynthia came home from work to find Scott heavily bleeding. He was rushed to the hospital where his back had to be sewn up again. After three weeks in the hospital, Scott and Cynthia decided it was time to stop treatment and take aid with hospice. The tumor kept growing, so large that it was noticeable on the skin's surface. No matter his situation Scott was still concerned about those around him. He insisted on driving past a neighbor's house to check how they were enjoying the three seasons room he had built for them. It was a testament to a good man who put others first in all his affairs.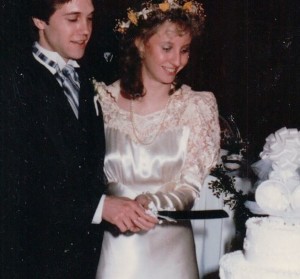 In October of 2002, Scott's health was quickly deteriorating, but his spirits were not. The family held a get together, where coworkers and other family members visited with Scott. Scott was in good spirits and held conversations with everybody there. The next day, Monday, October 21, 2002, Scott knew it was time. He wrote "I love you" on a piece of paper and handed it to Cynthia. Little Joe asked, "Is this the big finish, daddy?" Everyone in the room chuckled as the tension of the situation broke. Scott looked around the room and then whispered, "Jesus is here". Cynthia gave her husband her blessing, telling him to go be with Jesus. Scott Casanova passed away from malignant mesothelioma at the young age of 42.
Cynthia lost a husband and Meghan and Joe lost their father to mesothelioma. It was determined that Scott was most likely exposed to asbestos while working on cars growing up with his father and working as a driveway mechanic. Scott did not let his diagnosis come between what he wanted to accomplish in life. He was told he had six months to live, he lived significantly passed that. He created memories with his wife and children who will carry his memory and his spirit with them forever. To his last breath, he put himself last and worried about his family and those around him, selflessly. In many cases of tragedy, including those from mesothelioma, it brings out what lies within a person, spreading wider and bolder than a tumor ever could. The human spirit is exemplified in stories like Scott Casanova's, but where his ended, there was others left behind.