What does surfing and Santa have in common? Supporting and giving back to the cancer community.
On December 24th the annual Surfing Santas event will happen in Cocoa Beach, Florida. It lasts from 8 AM to 12 PM and admission is free.
During this Cocoa Beach holiday tradition, hundreds of surfers dressed like Santa will ride the ocean waves. Whether you are a surfer or not, this family-friendly event encourages all attendees to dress up and be festive.
Santas Surfing for a Cause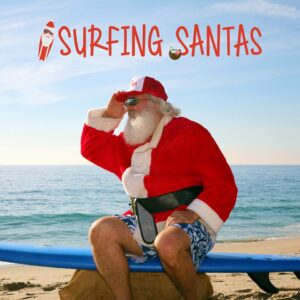 Proceeds raised by Surfing Santas Cocoa Beach are donated to the Florida Surf Museum and to Grind for Life. The event helps preserve the history of the surfing culture and it gives back to individuals that are affected by cancer.
"Surfing Santas Cocoa Beach takes great pride in helping those in need," states the Surfing Santas website.
During the event, attendees can purchase Santa Swag. By purchasing t-shirts and other merchandise, you are donating to both of the nonprofits that are dear to the Surfing Santas.
"We've been able to raise over $60,000 for local charities." – Cocoa Surfing Santas.
The Story Behind Grind for Life

Grind for Life, Inc was created in 2003. This organization was brought to life by pro skateboarder Mike Rogers. He is a two-time rare cancer survivor.
"Cancer doesn't always win," said Mike.
Learn more about Mike's story here.
Throughout Mike's medical journey he experienced aggressive treatment. In the case of a mesothelioma patient, aggressive multimodal treatment can improve their life expectancy.
Mike was also misdiagnosed. Some cancers can give patients symptoms that may mimic other illnesses. For example, pleural mesothelioma may be misdiagnosed as the flu.
Mike had to travel for treatment. He was a patient at the Memorial Sloan Kettering Cancer Center in New York. Keep in mind that Mike lives in Florida.
Not only was Mike fighting for his life, but he was burdened with medical expenses.
"At the time I lost my job, I had to use up all of my retirement fund to get through my illness. So, financially devastated, but I'm alive," Mike said.
Mike understands the difficulty and the challenges that cancer patients face. He has been in their shoes.
Supporting Grind for Life
Mike had a lot of support from the skateboarding community. After word about his situation got out, many people came together and hosted a benefit for him called Grind for Life.
"It was a moving day and after that, I had seen there is a need for people who are traveling long distances for cancer care and it didn't take a lot to help them. Why don't we do this all the time?" Mike said.

Mike was inspired and moved by how much success came from the benefit. He wanted to do more and give back to the cancer community. Thus, Grind for Life, Inc was born.
Through events and skating contests, the organization raises funds to help cancer warriors with traveling expenses. The nonprofit also assists patients and their families with lodging and meals.
"To wake up every day and know that you are doing good and you are making a great impact as a human, giving back as a person, to help save people, it is a great feeling," Mike stated.
Since 2004 the organization has provided over $150,000 to the cancer community. It has also helped roughly 200 patients with long-distance traveling expenses.
It doesn't matter if you are a skater or a surfer to support the mission of Surfing Santas or Grind for Life. You can contribute to their causes through the power of a generous donation. The donations that these organizations receive help keep their legacies alive. Make sure that you check out their official websites for more details.

For more information about organizations that help support mesothelioma patients, please contact Mesothelioma Guide's patient advocate Jenna Campagna. You can reach her by phone at 888-385-2024 extension 102.