Veterans make up over 1/3 of the victims of mesothelioma. The reason for this is clear. The U.S. military used vast quantities of asbestos, especially on ships, because of its unique insulating properties. This has resulted in a tragedy for veterans and their family members.
Fortunately, through the action of the U.S. Department of Veterans Affairs (VA), there are many financial services to help veterans with mesothelioma. Benefits offered by the VA range from education to medical aid to life insurance. However, one benefit available to veterans that is not as widely known are Fisher Houses.
In 1991, the first Fisher House was built to house the family members of patients who were receiving treatment at the National Naval Medical Center in Bethesda, Maryland. The idea was simple: to provide family members of veterans with a home away from home. There are now over 50 Fisher Houses.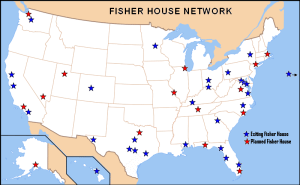 Each Fisher House is built on the property of major medical military hospitals and veteran clinics. According to the Fisher House Foundation, there is at least one Fisher House at each major medical military center. This is good news for mesothelioma patients because these medical military centers are usually in major cities where mesothelioma specialists are located. For example, the Fisher House at the VA Greater Los Angeles Healthcare System is less than 2.5 miles from the UCLA Medical Center, which has an extensive mesothelioma treatment program.
Fisher Houses provide another means of support for veterans affected by mesothelioma. Veterans have the support of their families as they undergo medical procedures, which is comforting. Finding a specialist is the most important part of improving a patients prognosis, which usually results in the patient traveling to a medical center in another state. Fisher Houses allow family members to give their support and care without the apprehension associated with staying in a hotel for an unknown amount of time. There are cases of family members staying at a Fisher House for years at no cost because the law requires these homes to be free. 19,000 families were housed by the foundation last year.
In order to utilize a Fisher House, the patient has to contact a VA Social Worker Case Manager at the respective location. Then the patient will meet for a brief interview and the case manager will send the results to the Fisher House manager for approval.
The Fisher House program operates as a public-private ownership, which allows funding from donations and government appropriations. The donations are used to reimburse each of the individual Fisher House's.
Hero Miles and Hotels for Heroes are two other programs affiliated with Fisher House. Hero Miles is a program where people donate their frequent flyer miles to family members and veterans. Hotels for Heroes is designed to help with the cost of hotels in cities where a Fisher House has not been built.
This is a great way for victims of asbestos exposure to seek the care they deserve without the stress of more travel expenses. It's also a great way for family members to offer their support along the way. Mesothelioma Guide has a variety of solutions available to veterans. Visit our Veteran Resources Page for more information.