A clinical trial that will study the efficacy of intraoperative photodynamic therapy in patients with pleural mesothelioma was announced in April. Photodynamic therapy essentially kills cancerous cells with light.
The trial is being sponsored by the Ohio State Comprehensive Cancer Center with radiation specialist Meng Welliver, M.D. as the principal investigator. This is not the first clinical trial of it's kind however.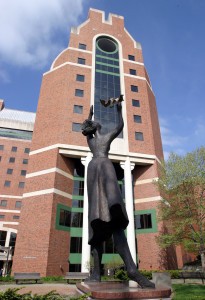 Intraoperative photodynamic therapy has been winning small victories over the past few years, encouraging more research to solidify its value to the medical community. Ohio State's trial is primarily concerned with testing the toxicity of this approach before moving into larger studies to measure survival.
In the trial, eight patients will receive an IV for 3-5 minutes of porfimer sodium, a drug that makes cancer cells sensitive to light. After 24 hours, each patient will receive a pleurectomy followed by the administration of photodynamic therapy. This is designed to kill the remaining microscopic cancer cells after the tumor is surgically removed.
Participants in this study will be pleural mesothelioma patients with a Stage 3 or 4 diagnosis. Those who have received or are receiving standard chemotherapy treatments with Alimta and cisplatin are still eligible for the study.
How Does It Work?
As mentioned, photodynamic therapy is a way of killing cancer cells with light. It works by injecting patients with a photosensitizing agent that makes mesothelioma cells vulnerable to the light.
The photosensitizing agent is absorbed into both healthy and cancerous cells, but the cancerous cells are usually a better host for the molecule. This means more healthy cells are spared in the process because they don't retain the photosensitizer as long as the cancerous cells.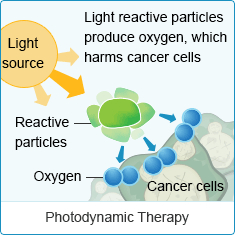 Very thin fiber optic cables are used to apply the light. These thin cables are pushed into the chest to aim the light directly at the tumor. The combination of the photosensitizer, oxygen and light react to form a chemical that kills malignant tumor cells.
Photodynamic therapy can also sear the tumor's blood vessels, which are essential for tumor growth.
The specific photosensitizer used in this clinical trial is porfimer sodium, which has been granted orphan drug status for use in mesothelioma by the FDA. Porfimer sodium is ineffectual without activation by a red laser light and is beneficial because it specifically targets mesothelioma cells.
Chemotherapy and Radiation Have a Contender
A key benefit of photodynamic therapy compared to chemotherapy and radiation is the relatively mild side effects. Chemotherapy and radiation require a longer recovery time than photodynamic therapy does because of their effects on patient health.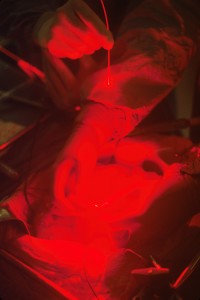 On the other hand, photodynamic therapy may cause some discomfort and sensitivity to light, but has demonstrated low toxicity in prior studies. This translates into a faster recovery time for patients.
Furthermore, photodynamic therapy is much more precise than chemotherapy and radiation. The primary limitation to photodynamic therapy is that it can be hard to deliver the light to the tumor; however, applying light during surgery may be the solution.
This clinical trial will further evaluate a way for photodynamic therapy to be applied directly to the affected area and within visible sight of the surgeon.
Making Waves in Intraoperative Photodynamic Therapy
The study being conducted by Ohio State is not the first of its kind. A study published last month by Dr. Charles Simone of the University of Pennsylvania Health System reported a median survival time of nearly 22 months in patients with non-small cell lung cancer, which is often treated similarly to pleural mesothelioma.
Another report published in the Annals of Thoracic Surgery in 2012 also tested the feasibility of intraoperative photodynamic therapy in conjunction with a pleurectomy in late-stage mesothelioma patients, showing promising survival rates.
The study reported that 31 of the 38 participants had a median survival time of 41 months. This is incredible given the stage of the disease and average life expectancy of mesothelioma patients, which is generally around 12 months.
"The survival we observed with this approach was unusually long for the patients with the epithelial subtype," said the authors of the study. "We conclude that the results of this lung-sparing approach are safe, encouraging, and warrant further investigation."
Multimodal approaches to surgery have long been recognized as the most effective way to improve survival rates in pleural mesothelioma patients. Although further research is clearly needed, it seems intraoperative photodynamic therapy is finally matching up to other intraoperative methods as a viable, and potentially more efficient, alternative.