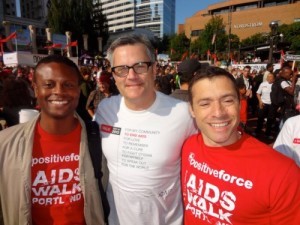 Sean Sasser, who once dated "MTV: Real World: San Francisco" star, Pedro Zamora, has died after losing his battle with mesothelioma.
Sasser frequently appeared on MTV's show, serving as a well-known AIDS and gay rights activist. Zamora and Sasser began dating at the beginning of MTV's third season of Real World. Their commitment ceremony was also televised. It served as a ground breaking moment in television history concerning the gay rights movement in America. Zamora was living with HIV and died from AIDS related illnesses in 1994. Sean Sasser revealed on the MTV show that he too was living with HIV.
Sasser then started dating Michael Kaplan and the couple has been together since. Kaplan is the President and CEO of AIDS United, a non-profit group that provides grants and advocacy for those affected by AIDS. Sasser then moved to Portland, Oregon after accepting a job with the group.
Sean recently took a position as a pastry chef at the restaurant "RIS" in Washington, D.C. He took great pride in his work and recently told Washington Blade that he has been "fascinated with food and cooking since he was young."
In July of 2013, Sasser was diagnosed with stage 4 pleural mesothelioma.
He was unable to work in the weeks following his diagnosis. He died on August 7, 2013 at home with his family around him, he was 44 years old. The mesothelioma affected him so quickly because HIV patients have a weakened immune system. Sasser had been living with HIV for 25 years.
MTV wrote "RIP to a member of the MTV family, groundbreaking Real World star and AIDS activist."
Mesothelioma is caused by exposure to asbestos and can affect the lungs, abdomen, and heart. Commonly, there is a latency period of 20-40 years before mesothelioma develops after initial exposure to asbestos. However, if someone is exposed to asbestos at an early age, they can develop mesothelioma younger as well. Most patients are 65 years old when they are first diagnosed.
Patients with mesothelioma can request a free mesothelioma guide.