UPDATED: 9/24/2013 – Clinical Trial locations announced by Verastem.
Mesothelioma patients have a new ally in their fight against the rare disease, one that leads toward hope for a longer life.
A new drug to treat mesothelioma is currently in a Phase 2 clinical trial headed by the drug company, Verastem Inc. The registration-directed trial titled, COMMAND (Control Of Mesothelioma with MAiNtenance Defactinib), is unique because it has produced promising results in maintenance treatment in malignant pleural mesothelioma (MPM) patients.
There is currently only one approved treatment for mesothelioma, which can improve life expectancy in patients, the combination of chemotherapy drugs cisplatin and pemetrexed. These drugs are the only standard treatment to stem the progression of cancerous cells. However, due to the aggression of mesothelioma, many patients don't show a marked response to this treatment. This could be caused by the mesothelioma stem cells at work, which support tumor growth and metastasis. Defactinib could play the role of a successful maintenance treatment following standard chemotherapy treatment with pemetrexed and cisplatin.
How Does Defactinib Work?
Defactinib is a focal adhesion kinase (FAK) signaling pathway inhibitor. Research by Dr. Robert Weinberg, the Chair of Verastem's Scientific Advisory Board, has shown the FAK pathway is essential for cancer stem cells to flourish. It is also the protein that allows cells to stick together and travel through the body (metastasis). Defactinib disrupts communication between cells to prevent mesothelioma cells from migrating and forming new tumors.
"FAK inhibition holds significant potential in malignant pleural mesothelioma, a cancer whose aggressiveness and treatment resistance proves all too often to be devastating for patients," said the Chief Medical Officer of Verastem, Dr. Joanna Horobin.
Blocking the signaling pathway can prevent metastasis of the cancer stem cells and help keep the cancer under control. A study presented in The Journal of Cell Biology showed a reduction in metastasis in breast cancer patients when FAK was removed. The hope is for it to be just as successful in reducing metastasis of mesothelioma cells. This would be the first successful form of maintenance treatment after standard chemotherapy for mesothelioma patients.
COMMAND
This is where COMMAND steps in. Verastem acquired the cancer stem cell inhibiting drug, defactinib (VS-6063), from Pfizer a year ago after Phase 1 trials were completed. Pfizer out-licensed the drug because of its already extensive oncology portfolio.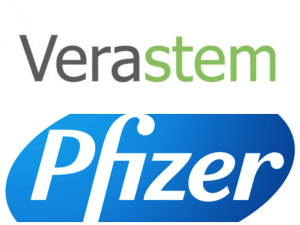 "Verastem's specific focus on targeting cancer stem cells makes them an ideal company to continue the development of this compound," Pfizer told Mesothelioma Guide. "By collaborating externally to find a positive way forward for compounds like [defactinib], we feel we can make the greatest impact on the lives of patients with cancer."
Verastem has found the drug to be effective and seems confident in its success. Confidence in the drug is bolstered by the fact that four top executives at the drug company purchased nearly a half million worth of stock in the company this June. Massachusetts-based Verastem is only three years old. It raised $55 million during its initial public offering last year despite having no drugs in clinical trials.
COMMAND is conducting clinical trials in 11 countries and has an estimated enrollment of 372 patients. Those patients who had a significant response to first-line chemotherapy will be considered for the study. Learn More about eligibility for the trial on our Clinical Trials page.
The Company's Purpose
The main focus of Verastem is to specifically target and kill cancer stem cells. The philosophy here is simple: cancer stem cells are capable of spreading throughout the body and supporting tumor regeneration; killing these cells holds the potential to produce a significant clinical response.
"I would say that, for many kinds of solid tumors, truly durable clinical responses will have to come from eliminating both the cancer stem cells in the tumor and the non-stem cells," said Dr. Weinberg.

"Eliminating only one or the other will not suffice because the dynamics of cancer regrowth will ensure that sooner or later one will have a clinical relapse."
Apparently, using first-line treatment, cisplatin and pemtrexed, does not do enough to improve survival times in many patients. That is, reducing the primary tumor does not go far enough to prevent the spread of the cancerous cells.
What Does This Mean for MPM Patients?
The potential results of this clinical trial bear a lot to consider. It has been a decade since an effective treatment for pleural mesothelioma has unveiled. In the time since then, there have been few, if any, treatments that seemed to hold this potential. This suggests the importance of studies involving novel treatments like defactinib.
"The incidence of mesothelioma, among the most aggressive and lethal cancers, is increasing worldwide, underscoring an urgent need to expand the very limited treatment options for patients fighting this disease," said Dr. Dean Fennell, Coordinating investigator for COMMAND in the UK.
If defactinib is shown to significantly increase progression-free and overall survival among patients, this will be the first effective mesothelioma drug ever to be used for maintenance therapy. This means the prospect of more cases of mesothelioma going into remission, and the potential to develop personalized treatment for mesothelioma patients.
UPDATE – September 24, 2013: COMMAND trials have commenced at Kinki University in Osaka, Japan. The incidences of pleural mesothelioma has been steadily increasing over the years. The registration directed trial is now being conducted across 12 countries and has shown promising results in its phase 1 trials conducted by Pfizer. The trial, led by Verastem, Inc., was first commenced on September 10th. The trial is studying the efficacy of a cancer stem cell suppressor in mesothelioma patients by inhibiting a protein, focal adhesion kinase, partly responsible for cancer stem cell growth. The new drug, defactinib, is seemingly radiating hope throughout the global mesothelioma community.
Professor Kazuhiko Nakagawa, Director of the Department of Medical Oncology at Kinki University reported to be "highly excited" about the development of defactinib as a new treatment method for pleural mesothelioma. Professor Nakagawa is the Coordinating Investigator for the trial in Japan.