Mesothelioma specialist, Dr. Lee Krug, and his wife are participating in Cycle for Survival to help raise money to fund mesothelioma research. Cycle for Survival is sponsored in part by Memorial Sloan Kettering Cancer Center where Dr. Krug leads the mesothelioma program.
Cycle for Survival is an annual fundraiser to raise money to research rare cancers like mesothelioma. These cancers are notoriously underfunded in comparison to common cancers, such as breast and lung cancers.
Dr. Krug is both a terrific mesothelioma specialist and advocate for patients. In the past, he has pushed for large mesothelioma clinical trials when others didn't think it was possible. Knowing that mesothelioma only gets a small piece of the federally funded pie, Dr. Krug believes events like Cycle for Survival can make up for the deficit in funding.
"Raising money with Cycle for Survival is especially important at a time when research funding from other sources, like the [National Institutes of Health], is way down," Dr. Krug states on he and his wife's profile page.
Cycle for Survival has already raised over $8 million. "100% of every dollar you give will go directly to research within six months of the event," said Dr. Krug.
Dr. Krug has led a plethora of groundbreaking clinical trials for mesothelioma patients. One of the most recent clinical trials he's working on is testing the ability of a genetically engineered virus, known as GL-ONC1, to kill mesothelioma cells in his patients. He is contributing to the study with his colleague, Dr. Valerie Rusch.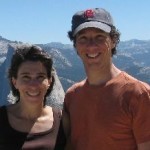 Without clinical trials, treatment for mesothelioma would come to a stand still. It's thanks to mesothelioma clinical trials that treatments are becoming more effective and doctors are starting to be more optimistic of making the next breakthrough in treatment.
Dr. Krug is one of the few specialists who publicly takes time to emphasize the importance of these trials often. His participation in Cycle for Survival highlights his dedication to mesothelioma research.
"Cycle for Survival has contributed to more than 100 clinical trials and research studies that would not otherwise have been possible, including projects in mesothelioma," said Dr. Krug.
As of today, Dr. Krug and his wife are nearly a third of the way to his fundraising goal. Dr. Krug and the other riders participating in Cycle for Survival are collecting donations until they take their marks on Friday March 6, 2015.