My Cause, My Cleats gives NFL players a chance to showcase and raise funds for the charities and organizations that they are passionate about on their cleats. During the 13th week of the 2017 season, about 1,000 players are anticipated to participate.
Many players are supporting causes that are dear to them. In some circumstances, they are wearing their cleats in honor of those that are fighting cancer.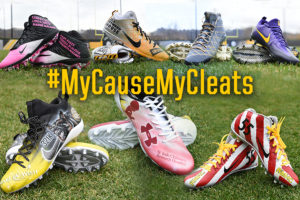 "NFL's My Cause, My Cleats initiative will allow players to wear their hearts on their feet, showcasing cleats representing charities that are important to them," states the Los Angeles Times.
Supporting the American Cancer Society
Patrick DiMarco from the Buffalo Bills and Drew Kaser from the Kansas City Chiefs are wearing cleats to support the American Cancer Society.
"We're on a mission to free the world from cancer. Until we do, we'll be funding and conducting research, sharing expert information, supporting patients, and spreading the word about prevention. All so you can live longer — and better." – The American Cancer Society

The American Cancer Society is a 501(c)(3) nonprofit organization. It currently is present in over 5,000 communities in the country. This society has contributed to decreasing the overall cancer death rate in the U.S. by 25%.
The organization raises and donates funds to cancer
Research
Education
Detection
Patient support
"The American Cancer Society is structured to fight for every life threatened by every cancer in every community," states the American Cancer Society website.
Wearing Cleats for Cancer Research
NFL player Rodney McLeod is showing his support for the American Association for Cancer Research (AACR). McLeod plays for the Philadelphia Eagles.
"Cancer is not a single disease, but more than 200," states the AACR website.
Mesothelioma is one of these 200 diseases. This type of cancer affects anywhere from 2,000 to 3,000 people in the United States each year.

The American Association for Cancer Research was founded in 1907. The association's goal is to prevent and cure all types of cancers. Through research, awareness, and training AACR hopes to secure the future for researchers and the public.
The 4 milestones that AACR focuses on to accomplish their mission are
Research
Education
Communication
Collaboration
"AACR fosters research in cancer and related biomedical science; accelerates the dissemination of new research findings among scientists and others dedicated to the conquest of cancer; promotes science education and training; and advances the understanding of cancer etiology, prevention, diagnosis, and treatment throughout the world." – The American Association for Cancer Research's mission.
Mesothelioma and Breast Cancer
Larry Fitzgerald will be taking to the field wearing black and pink cleats. The goals of his cleats are to honor his mother and to raise awareness about breast cancer. Fitzgerald plays for the Arizona Cardinals.
It may be odd to put mesothelioma and breast cancer in the same sentence, but some research claims that there are some similarities found among them.
Some similarities between these cancers are
Diagnostic markers
Symptoms
Treatments
"It is possible that asbestos fibres move through lymphatic fluid to chest and breast tissue. Another hypothesis is that fibres actually pierce lung and associated tissue and migrate into the chest wall," states the Breast Cancer UK website.
The exact cause of breast cancer is unknown. The only known cause of mesothelioma is asbestos exposure. More research will need to be conducted to determine if there truly is a link between these two cancers.
Spreading Awareness with My Cause, My Cleats

My Cause, My Cleats debuted during the 2016 season. It was the first time that the NFL gave players a chance to wear custom footwear. After having a great deal of success last year, players will return to the field this 2017 season supporting causes, organizations, and charities on their cleats.
To see other organizations that NFL players are supporting, check out this short video.
For a complete list of all of your favorite football players that are wearing cleats for a cause, make sure that you check out NFL's official website. You can also join the conversation on social media by using #MyCauseMyCleats.
Is one of your favorite players supporting a cause that is dear to you? Tell us about it in a comment below.