University of Pittsburgh Medical Center
University of Pittsburgh Medical Center
5150 Centre Ave.
Pittsburgh, PA
The Mesothelioma Specialty Care Center at the University of Pittsburgh Medical Center boasts a strong commitment to mesothelioma treatment through ongoing research and advanced technologies.
About UPMC Cancer Center
With both an accomplished past and a dedication to success in the future, the Mesothelioma Specialty Care Center at the University of Pittsburgh Medical Center is one of the most comprehensive facilities for mesothelioma patients on the East Coast. The center's network includes HIPEC specialist Dr. James F. Pingpank. The center was so successful in Pennsylvania that it has since spread internationally to both Dublin and Waterford, Ireland.
Why UPMC?
Advanced Technology

Specialists here are always working to improve treatment methods. UPMC's emphasis on technology, such as robot-assisted surgery, ensures that the center stays on the cutting edge of promising innovations.

Leaders in Research

Clinical trials are one of the best ways to explore new treatment options for mesothelioma, and the doctors at UPMC take full advantage of both existing and emerging treatments.

Experienced Physicians

The doctors at UPMC are among the most accomplished in the country, with expertise in successful treatments including heated chemotherapy, also known as HIPEC.
Get Connected To UPMC Cancer Center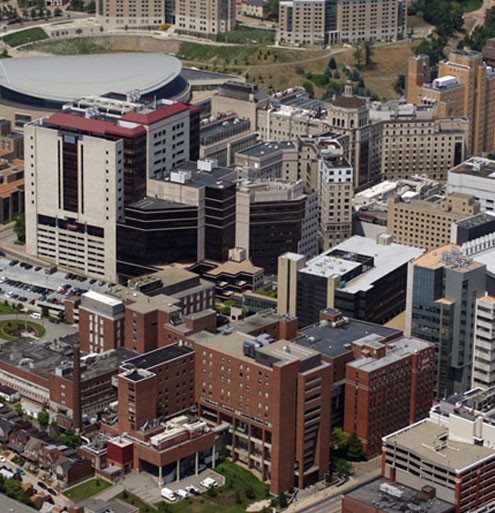 If you've been diagnosed with mesothelioma and are seeking treatment at a top-notch facility, UPMC may be for you. Our free service will help you evaluate your options and connect you with UPMC or the best cancer center for your specific needs.
Why Choose University of Pittsburgh Medical Center?
Home to top mesothelioma doctors
Leaders in mesothelioma clinical trials
Experts in life-extending treatments including HIPEC
Home to Innovative Mesothelioma Physicians
UPMC is an attractive choice in part because of its doctors, many of whom are internationally recognized specialists. These top doctors have worked in the field of mesothelioma treatment for years. Some of the outstanding work they have contributed includes the development of life-saving procedures for mesothelioma patients.
Dr. James F. Pingpank, Jr.
A surgical oncologist and the associate professor of surgery at UPMC, Dr. James F. Pingpank, Jr. has extensive experience working with peritoneal mesothelioma. Dr. Pingpank's research and contributions on developing the HIPEC treatment for mesothelioma have extended the lives of many patients. HIPEC also called heated chemotherapy, is often combined with another treatment called cytoreduction, resulting in the most successful peritoneal mesothelioma treatment available.
Dr. David Bartlett
As the MD chief of the division of surgical oncology at UPMC, Dr. David Bartlett has an expertise in the management of advanced, complex abdominal malignancies. Dr. Bartlett helped develop a technique that delivers heated chemotherapy directly to the peritoneal cavity. This allows patients with the disease confined to this area to receive chemotherapy in the operating room. Dr. Bartlett helped found the Mesothelioma Specialty Care Center, which prides itself on comprehensive treatment.
"We combine novel therapies with multidisciplinary approach from true experts in the field of mesothelioma to provide specialty care for the patients with mesothelioma." – Dr. David Bartlett.
Clinical Trials at UPMC
UPMC Cancer Center is proud to host clinical trials for emerging mesothelioma treatments. Throughout the years, UPMC has been home to various clinical trials dedicated to the treatment of mesothelioma.
In May, the center began a clinical trial testing the safest dose of a triple combination of drugs that may collectively impact mesothelioma. This trial is an attempt to understand whether the triple dose, along with standard chemotherapy as determined by the oncologist, is effective in treating peritoneal surface malignancies.
A clinical trial, that wrapped up at the end of 2015, studied how well Alimta worked in treating patients with malignant pleural mesothelioma without progressive disease after first-line chemotherapy.
Living with Mesothelioma at UPMC
Is UPMC Right for You?
UPMC is one of the most outstanding cancer centers for mesothelioma treatment. Particularly for those diagnosed with peritoneal mesothelioma, UPMC has a proven track record of providing life-extending treatment to the patients who need it most. Some of the reasons people choose to go to UPMC include:
Extensive experience in peritoneal mesothelioma treatment
Internationally renowned physicians
Access to life-extending or saving clinical trials
The patient advocate team at Mesothelioma Guide can help you determine the best cancer center for you and get you enrolled as a patient. We can also help you get connected to specialists at UPMC with our free Doctor Match program.