University of Chicago Cancer Center
University of Chicago Cancer Center
1850 Silver Cross Blvd.
New Lenox, IL
University of Chicago Cancer Center is a leader in innovative mesothelioma treatment and research. It has one of the largest programs in the country and is also the home of specialist Hedy Lee Kindler.
Benefits of University of Chicago Cancer Center
The University of Chicago Comprehensive Cancer Center (UCCCC) is a leading treatment center with one of the largest mesothelioma programs in the country. Due to its considerable program size, UCCCC receives a relatively high amount of funding for mesothelioma research, contributing to its success in treating the disease. Get recommendations to top cancer centers like University of Chicago Cancer Center to find the best treatment for you.
Why University of Chicago Cancer Center?
Patient Focus

With a full multidisciplinary team of mesothelioma specialists, University of Chicago offers patients some of the best treatment in the country. Additionally, the Cancer Resource Center here has a full range of support and information for patients.

Research

With a collaborative approach to clinical research, this cancer center is constantly involved with many clinical trials. The advancements made through research provide the latest treatments for mesothelioma patients.

Technology

As one of the most comprehensive treatment centers in the nation, University of Chicago is always a forerunner in offering the latest treatment technology—from pushing the envelope in new radiation therapy to robotic-assisted surgery.
Get Connected To University of Chicago Cancer Center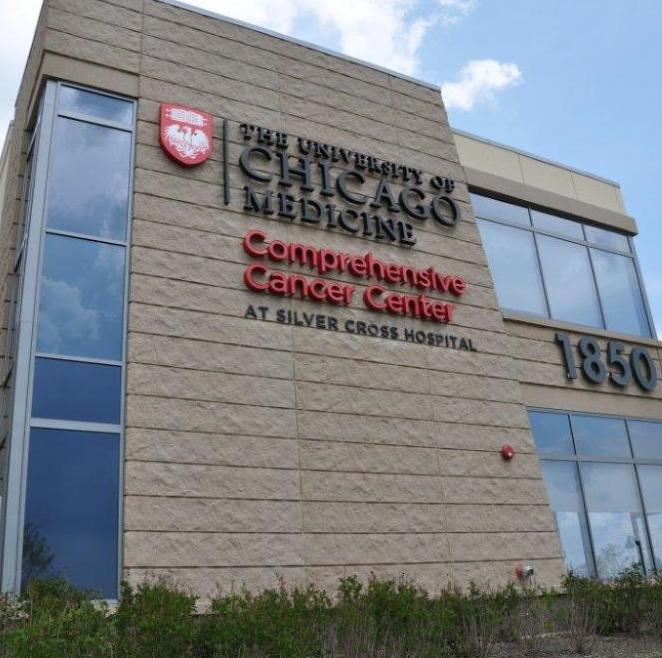 The University of Chicago Comprehensive Cancer Center's history of treating mesothelioma has been at the top of the ranks since its conception. Led by some of the foremost specialists, this is a top choice for many patients.
Why Choose University of Chicago Cancer Center?
Guided by mesothelioma specialist, Dr. Hedy Lee Kindler
Solid reputation in treating both pleural and peritoneal mesothelioma
Constantly developing treatment methods through clinical research
Mesothelioma Innovations at University of Chicago
University of Chicago has been a forerunner in cancer research since it was founded in 1973. This cancer center has a full team of mesothelioma specialists in every discipline of medicine, from imaging specialists to surgical oncologists. Each member of the mesothelioma program here has notable experience with diagnosing and treating the disease.
Basing treatment on clinical research, University of Chicago has forged a path in innovative treatments for mesothelioma for over 25 years.
Clinical research at University of Chicago has been crucial to the development of more effective chemotherapy treatments like the combination of Alimta and cisplatin. This research helped establish what many consider to be the first chemotherapy to have a significant impact on mesothelioma patient survival rates.
University of Chicago was also one of the first to offer intensity-modulated radiation therapy (IMRT). IMRT has been a great asset to the treatment of mesothelioma when used in conjunction with chemotherapy and surgery. IMRT is beneficial in mesothelioma treatment because targeted radiation therapy avoids excessive radiation to the delicate organs in the chest cavity.
Home To Top Mesothelioma Specialist, Dr. Hedy Lee Kindler
University of Chicago Cancer Center is the home of one of the mesothelioma community's top doctors, Dr. Hedy Lee Kindler. Her interest in treating mesothelioma hits closer to home than other mesothelioma specialists—her father was diagnosed with the disease. As one of the top mesothelioma researchers in the country, she has developed an uncommon focus on both pleural and peritoneal mesothelioma research. She is the principal investigator of several clinical trials at University of Chicago including the Tivantinib and tissue procurement studies.
Current Clinical Trials
University of Chicago is always involved with several mesothelioma studies. The cancer center directs research in novel targeted therapies, as well as assessing the viability of traditional treatment methods through further research, in the hope of continuing the advancement of mesothelioma treatment. Research currently underway includes:
Novel Cancer Vaccine

The development of cancer vaccines, also known as immunotherapy, is a promising area of treatment for mesothelioma patients. A study of CRS-207 is being conducted in patients who have received chemotherapy with Alimta and cisplatin. This study is evaluating the potential of CRS-207 to illicit an immune response, which could help kill mesothelioma cells.

Maintenance Therapy Drug

The development of an effective maintenance treatment for mesothelioma has yet to come to fruition. Maintenance treatment is used to prevent cancer growth after patients have gone through their initial treatment. University of Chicago is currently studying the effect of the drug Tivantinib on early- and late-stage patients in this capacity, as it may block certain cancer enzymes necessary for tumor growth.

Mesothelioma Tissue Research

Following its pursuit of a better understanding of the disease, University of Chicago is part of a tissue procurement study of peritoneal mesothelioma. Tissue procurement is an important part of research as it allows doctors to study mesothelioma at the molecular level, developing new scientific approaches to treatment such as novel immunotherapy treatments and cancer vaccines.
Is University of Chicago Right for You?
Every mesothelioma diagnosis should be treated as an individual case, so finding the right cancer center and specialist for you is important to receive the best treatment possible. University of Chicago Cancer Center, with the help of specialists like Dr. Hedy Kindler, has developed a mesothelioma program that ranks among the top in the nation. Reasons many patients choose this cancer center include:
One of the largest programs in the U.S.
Provides innovative treatment options
Patients receive treatment under the supervision of Dr. Kindler
If this sounds like the right cancer center for you, getting in touch is the next step. Contact one of our patient advocates at 1-888-385-2024 to get in touch with University of Chicago or get a complete list of cancer centers in our free Mesothelioma Guide.