UCSF Helen Diller Family Cancer Center
University of California San Francisco (UCSF) Medical Center
1600 Divisadero St.
San Francisco, CA
A leader in research and treatment, the UCSF Helen Diller Family Comprehensive Center provides outstanding care to mesothelioma patients.
About UCSF Cancer Center
Since 1948, the Helen Diller Family Comprehensive Cancer Center at the University of California San Francisco has been a nationwide leader in cancer care. Mesothelioma patients who come to UCSF can rest assured that they will receive the highest quality of care from the center's compassionate and knowledgeable specialists.
Why UCSF?
Extensive Experience

Mesothelioma specialists at UCSF have decades of experience in treating the disease, so patients benefit from their expansive knowledge.

Compassionate Care

Doctors at UCSF do more than treat their patients; they are empathetic and caring in their treatment. Maintaining an individual focus on each patient is part of building trust and working toward successful treatments at UCSF.

Nationally Recognized

UCSF is consistently named among the top cancer centers in the country by U.S. News and World Report. It's also the only center in the region designated as a comprehensive cancer institute by the National Cancer Institute.
Get Connected To UCSF Cancer Center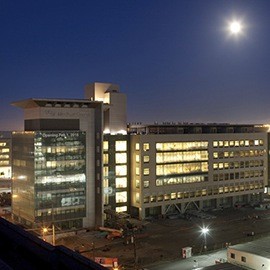 The cancer center at UCSF is one of the most highly respected in the country, repeatedly named among the top 10 cancer centers in the United States by U.S. News and World Report. If you have been diagnosed with mesothelioma and are considering UCSF as your cancer center, we can help you get in touch now.
Why Choose University of California San Francisco?
Extensive experience treating mesothelioma
Leaders in the administration of successful therapies
Ranked among the top 10 cancer centers in the country
The Mesothelioma Specialists at UCSF
One of the most influential factors for patients considering UCSF as their treatment center is the range of experience represented by its specialists. The physicians at UCSF are among the most accomplished on the West Coast. Some of the major players in the field of mesothelioma research and treatment call this center home.
Dr. Thierry Jahan
Thoracic oncologist Dr. Thierry Jahan specializes in the study of malignant pleural mesothelioma. His work spans curative and palliative procedures as he works to bring an end to mesothelioma patient suffering. A caring and empathetic doctor, Dr. Jahan brings a decidedly compassionate edge to UCSF.
"I started in this disease close to 20 years ago when we really had very little to offer other than comfort measures and treatment to ease people's suffering; now we're up to having state-of-the-art molecular analyses and specifically designed drugs that target exactly the disease and very little else so they don't cause a lot of side effects." – Dr. Thierry Jahan
Dr. David Jablons
Professor and program leader of thoracic oncology at UCSF, Dr. David Jablons is an accomplished physician who leads research in therapeutic agents and treatments for mesothelioma and other types of lung cancer. Dr. Jablons also heads up the center's thoracic tissue bank, one of the largest in the world. By building on existing cancerous tissue, Dr. Jablons and his specialists can contribute to the development of new treatments for malignant pleural mesothelioma.
Clinical Trials at UCSF
As a leader in mesothelioma research, UCSF is always looking for ways to get involved in clinical trials to advance treatment development. Some of their most notable recent clinical trials include:
Treating Mesothelioma with Bacteria
Dr. Thierry Jahan is leading a clinical trial to investigate whether a genetically modified strain of the bacteria Listeria could impact mesothelioma tumors. For this study, the Listeria is modified to reduce its harmful effects while stimulating immune responses; it is used in addition to standard chemotherapy treatment for malignant pleural mesothelioma.
Maintenance Chemotherapy
This Phase II clinical trial aims to determine whether maintenance therapy using Alimta has any long-term impact on pleural mesothelioma patients. One of the difficulties in treating mesothelioma is that the disease progresses quickly after the patient's first round of treatment. If doctors can develop an effective maintenance therapy, patients could live longer by keeping their disease at bay.
Is UCSF Right For You?
UCSF Helen Diller Family Comprehensive Cancer Center is a leader in new treatment options as well as continuing research and exemplary patient care. Although it depends on your specific diagnosis, UCSF may be the cancer center best suited for your treatment. Some of the benefits of UCSF include:
Leaders in research
Internationally recognized
Extensive experience in treating mesothelioma
UCSF is always on the cutting edge of mesothelioma research. If you are interested in alternative treatment options, find out more about clinical trials and whether you are eligible to participate in one. The patient advocate team at Mesothelioma Guide can help you get connected to specialists at UCSF with our free Doctor Match program.